It's time again for Colin Cowherd's weekly Blazing 5 picks against the spread. Cowherd is looking to bounce back after a rough 2-3 showing last week. This time around he's got plenty of confident predictions, including an upset pick for the Chargers over the Chiefs. Get ready for some hot takes as Cowherd blazes through his five favorite picks for Week 7.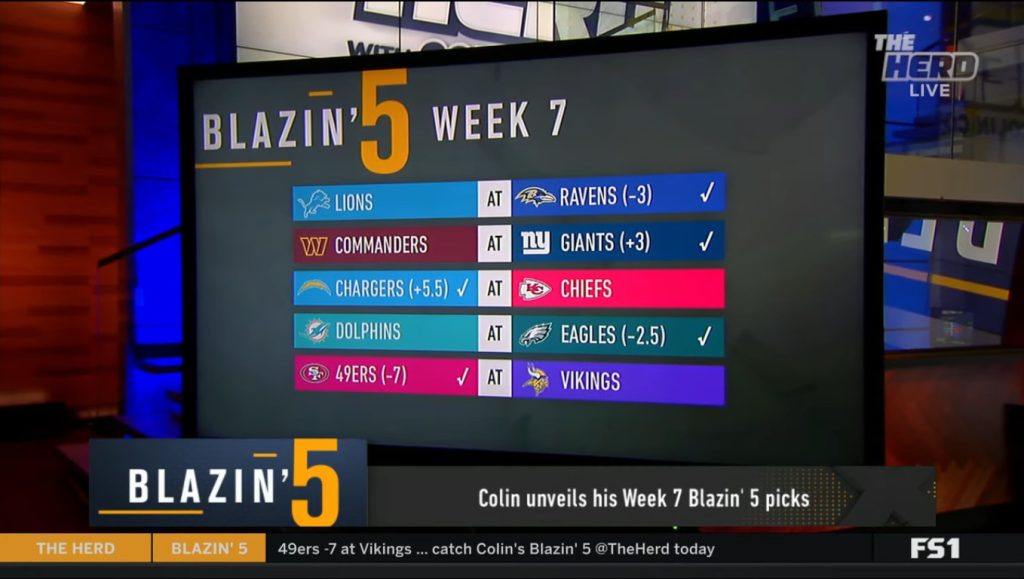 Blazing 5 Picks for Week 7:
Lions at Ravens: Ravens -3
Commanders at Giants: Giants +3
Chargers at Chiefs: Chargers +5.5
Eagles at Dolphins: Eagles -2.5
49ers at Vikings: 49ers -7
Blazing 5 Picks for Week 14:
Panthers vs Saints: Carolina Panthers (+5.5)
Jaguars vs Browns: Cleveland Browns (-3)
Lions vs Bears: Chicago Bears (+3)
Broncos vs Chargers: Denver Broncos (+2.5)
Bills vs Chiefs: Kansas City Chiefs (-1.5)
Colin's Blazing 5 Predictions for Week 14:
Game 1: Panthers at Saints

Spread: NO -5.5.
Colin's Pick: Carolina +5.5.
Prediction: Panthers win 26-24.
Rationale: Panthers' strong defense recently and Saints' weaknesses, including coaching and player performance issues.

Game 2: Jaguars at Browns

Spread: CLE -3.
Colin's Pick: Cleveland -3.
Prediction: Browns win 24-13.
Rationale: Browns' strong home performance and defensive capabilities, Jaguars' injuries and poor performance in cold weather.

Game 3: Lions at Bears

Spread: DET -3.
Colin's Pick: Chicago +3.
Prediction: Bears win 24-23.
Rationale: Bears' rush defense and recent performance, Lions' defensive struggles, and cold weather impact on Lions' quarterback Jared Goff.

Game 4: Broncos at Chargers

Spread: LAC -2.5.
Colin's Pick: Denver +2.5.
Prediction: Broncos win 27-24.
Rationale: Denver's defensive improvement, coaching advantage, and Chargers' overall weaknesses.

Game 5: Bills at Chiefs

Spread: KC -1.5.
Colin's Pick: Kansas City -1.5.
Prediction: Chiefs win 30-27.
Rationale: Patrick Mahomes' record after losses, Chiefs' strong defense this season, and Bills' inconsistencies in big games.
Lions at Ravens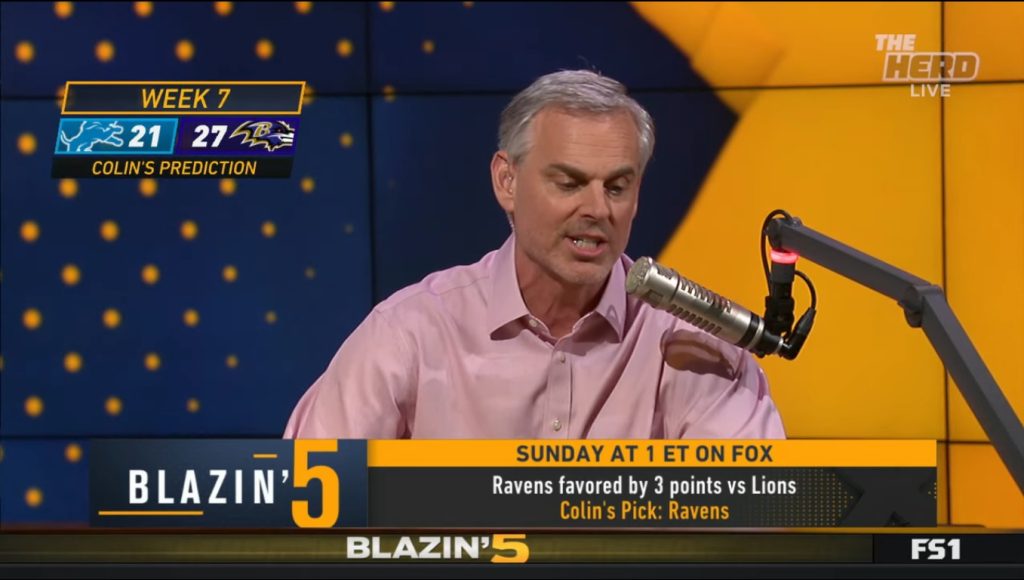 Colin picks the Ravens (-3) in their matchup against the Lions. According to him, Jim Harbaugh's record as a home favorite is impressive, standing at 82-26. Colin points out that Baltimore ranks high in several key metrics including the fifth-best rushing offense and fourth-best scoring defense. He also highlights Lamar Jackson's exceptional performance, citing him as the second highest-graded quarterback according to PFF. His final score prediction for this game is Ravens 27, Lions 21.
Commanders at Giants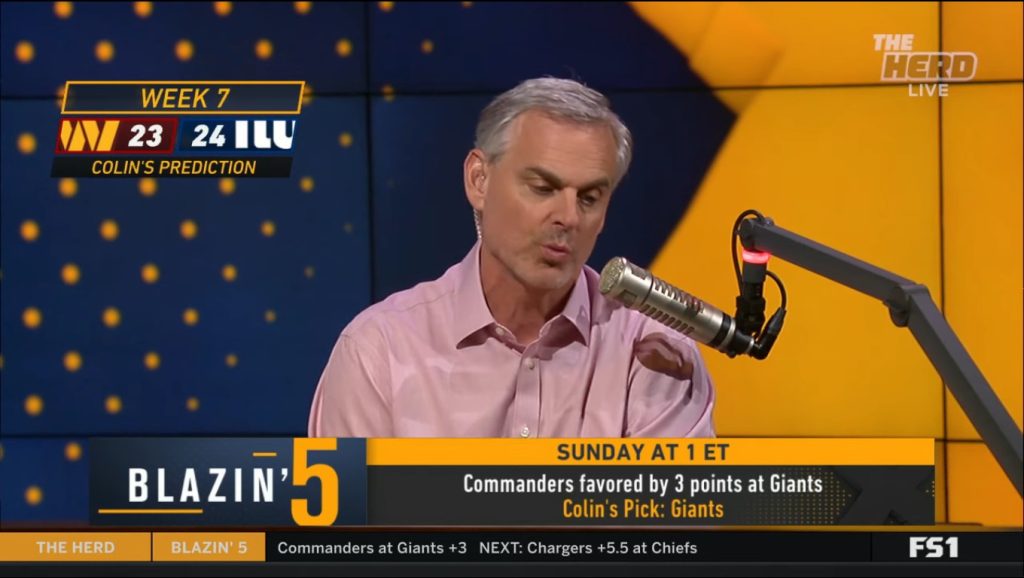 Colin goes against the grain by picking the Giants (+3) in their game against the Commanders. He argues that despite their losses, the Giants have faced a tough schedule and have a game-managing quarterback in Tyrod Taylor. Colin also notes that the Commanders have a negative point differential and have allowed 30 or more points in four out of five games. His final score prediction is Giants 24, Commanders 23.
Chargers at Chiefs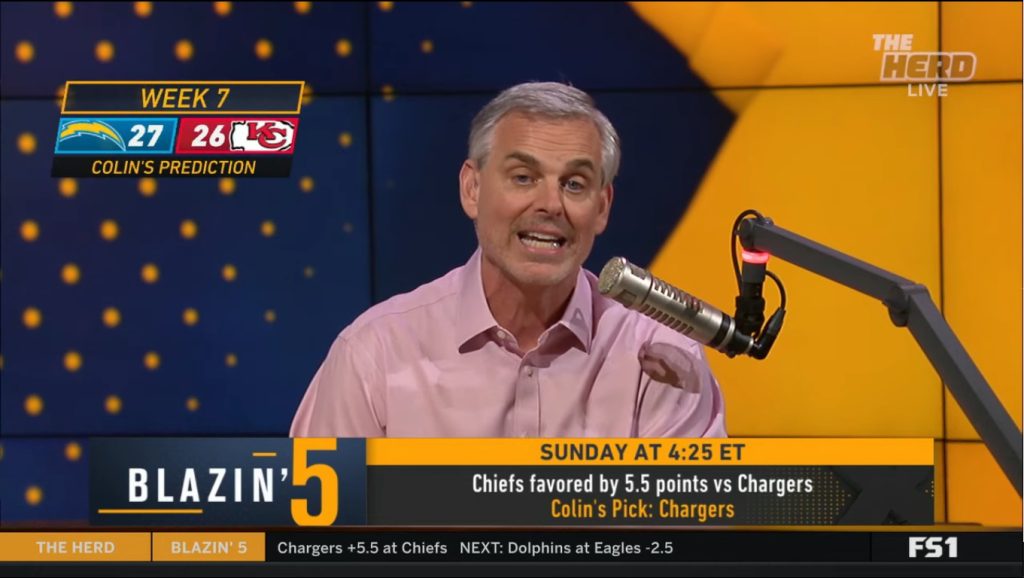 For the Chargers (+5.5) vs Chiefs game, Colin predicts an upset. He points out that the Chargers have never been blown out this season and that quarterback Justin Herbert has had some of his best performances against Kansas City. Additionally, he mentions the Chiefs' struggling offense, including Patrick Mahomes' career lows across various statistics. Colin's final score prediction is Chargers 27, Chiefs 26.
Eagles at Dolphins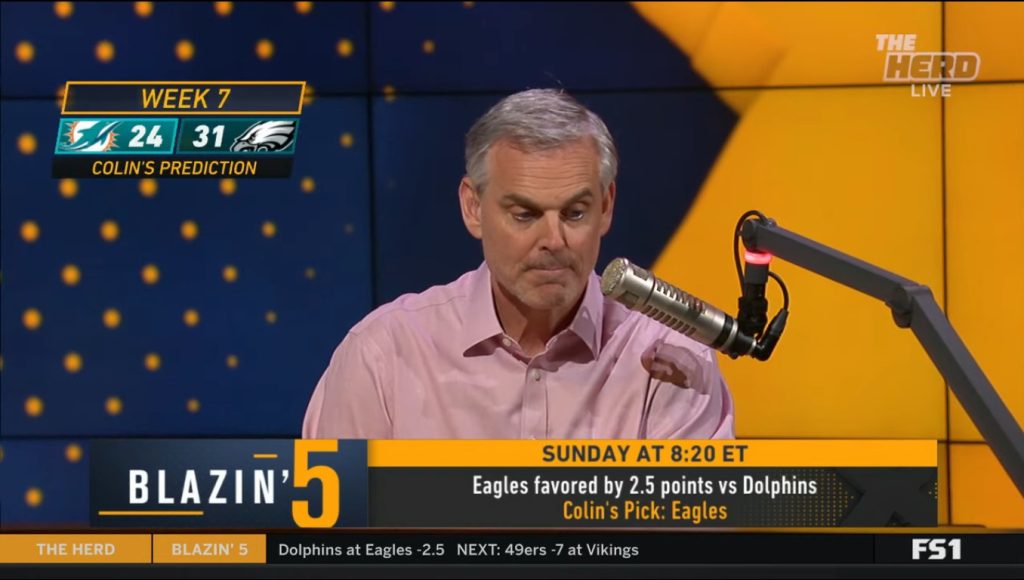 Colin picks the Eagles (-2.5) to win and cover against the Dolphins. He emphasizes the strength of the Eagles' offensive line and notes Jalen Hurts' impressive home-game statistics. Colin believes that despite the Dolphins' relatively easy schedule, they don't match up well against Philadelphia. His final score prediction for this game is Eagles 31, Dolphins 24.
49ers at Vikings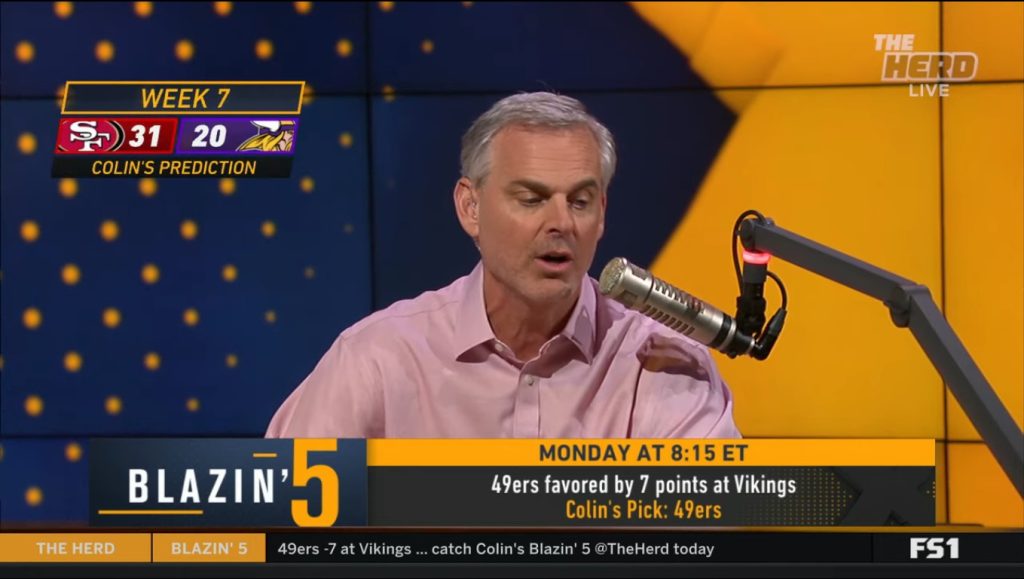 In the Monday Night Football matchup between the 49ers (-7) and Vikings, Colin predicts a 49ers win. He mentions the 49ers' number-one scoring defense and the Vikings' struggle to perform against high-caliber teams. Colin also highlights the Vikings' multiple offensive weaknesses, including turnovers and missing key players. His final score prediction is 49ers 31, Vikings 20.