Week 14 college football picks for the Bear's Bank picks on ESPN College Gameday.
As usual on Gameday, the Bear makes his popular College Gameday Picks in his segment called the Bear's Bank picks.  College football degenerates all love these picks.
Last 4 seasons, Bear absolutely crushed it on his Bear's Bank picks, here are the records:
2018: 30-24-1 (55.6%)
2017: 29-19-1 (60.4%)
2016: 30-19 (61.2%)
2015: 28-23-1 (54..9%)
If you're looking for other football picks, we got other expert picks for you, check these out:
College Football Predictions
Bear's Bank Week 14 Picks (Season 22-18-1)
Here are the Bear's picks for today…
If you can't see the picks, try turning off adblock on your browser. You will see the picks once you allow ads on the site.
Here are Bear's picks on Sports Center just before Gameday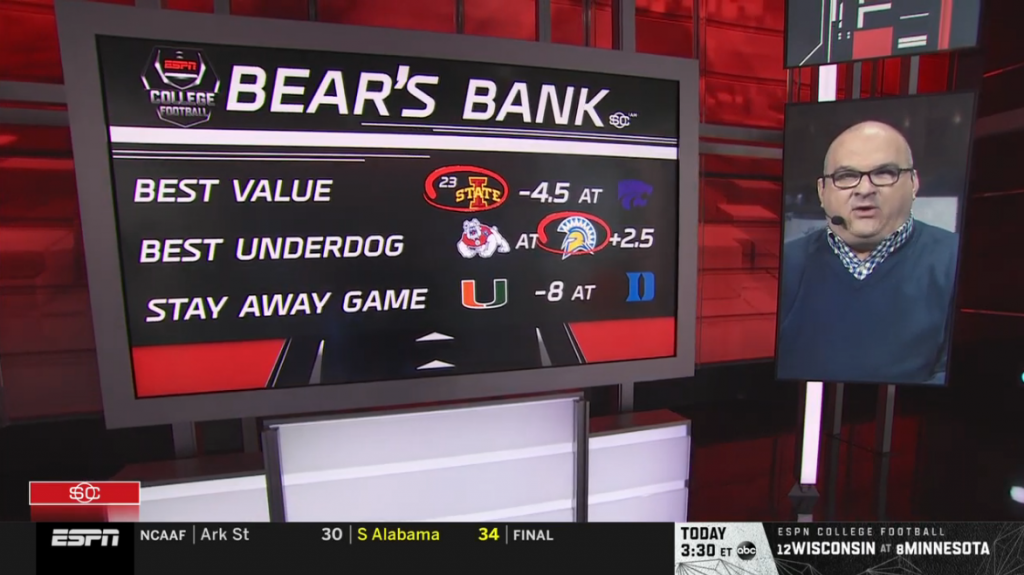 Iowa St at Kansas St – Iowa St (-4.5)
Fresno St at San Jose St – San Jose St (+2.5)
Here's Bear's picks on Gameday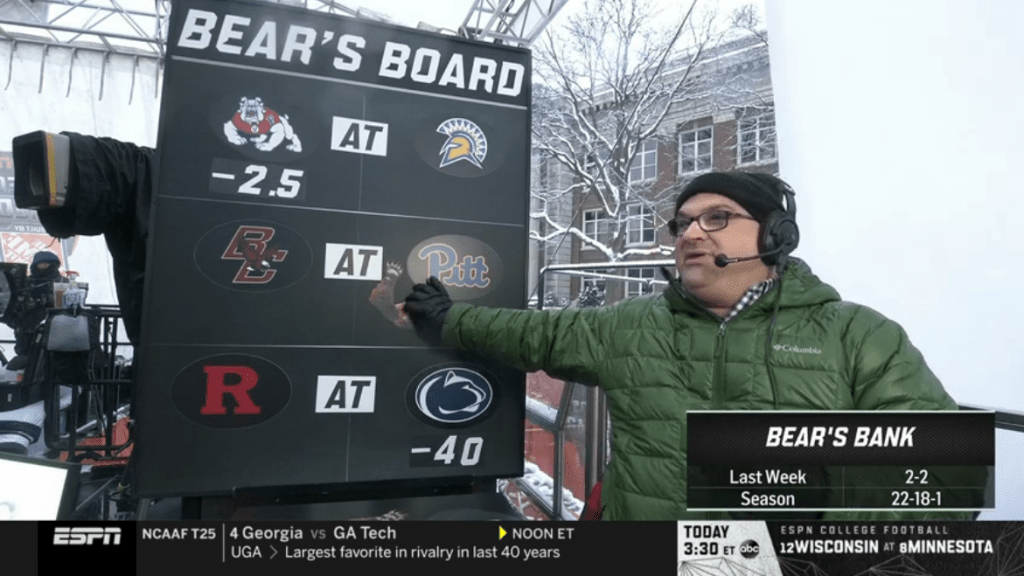 Boston College at Pittsburgh – Pittsburgh (-8)
Fresno St at San Jose St – San Jose St (+2.5)
Iowa St at Kansas St – Iowa St (-4.5)

Bear changed his board in the middle of the show to add Iowa St.  So he removed Penn St, but he did like Penn St to cover 40
Rutgers at Penn St – Penn St (-40)
Bear also made the same picks on his podcast earlier this week
So there you go, Bear's picks.  You won't find his picks posted online anywhere else faster than us.  So be sure to bookmark evenyourodds.com and come back each week for all of your favorite handicapper's picks!