Kimes Signs $1.7 Million Annual Deal With ESPN
Popular NFL analyst Mina Kimes has signed a major contract extension with ESPN that will see her annual earnings surpass $2 million per year, according to NY Post.
The new deal with ESPN will pay Kimes a little over $1.7 million annually and keeps the in-demand talent at the network after speculation she may test free agency. Kimes, 38, has emerged as one of ESPN's most prominent on-air personalities thanks to her expert NFL analysis and engaging presence.
Additional Deals Push Earnings Past $2 Million
In addition to the rich ESPN contract, Kimes also inked a separate deal with Peyton Manning's Omaha Productions for her podcast. The partnership agreement between Omaha and ESPN bumps Kimes total compensation to over $2 million per year.
Role At ESPN Remains Largely Unchanged
Kimes' role at ESPN will remain largely the same under the new contract. She will continue as a featured analyst on the network's NFL Live program, as well as make regular appearances across ESPN's many platforms.
Lucrative Deal Puts Kimes In Elite Company
The lucrative deal is a major raise for Kimes, catapulting her earnings from the six-figure to seven-figure range. Her $1.7 million yearly salary puts her in the same neighborhood as NFL Live co-host Marcus Spears, who recently signed a lucrative multi-year extension himself.
Timing Not Ideal Amid ESPN Layoffs
While thrilled to be staying at ESPN, the timing of Kimes' negotiations was not ideal. Her previous contract was nearing expiration just as ESPN engaged in a round of high-profile layoffs over the summer.
Worried about potentially losing one of their brightest talents, ESPN executives made locking down Kimes a top priority. Despite cost-cutting in other areas, the network remains committed to investing in its top personalities like Kimes.
Outside Projects With Meadowlark Media
In addition to her expanded ESPN role, Kimes has also signed on for regular appearances with Dan Le Batard's Meadowlark Media. She will be featured weekly on Le Batard's radio show.
Kimes is also involved with Manning's Omaha Productions under a separate podcast deal. The ESPN/Omaha agreement allows Kimes the flexibility to pursue projects outside the Worldwide Leader's umbrella.
Rapid Rise Since Joining ESPN In 2014
Kimes first joined ESPN in 2014 as a writer after stints with Bloomberg News and Fortune magazine. She quickly expanded her role to television and became a network staple on shows like Highly Questionable.
But it was her NFL analysis that truly stood out and earned Kimes a promotion to NFL Live in 2017. Her football acumen and on-air chemistry with co-hosts like Spears and Ryan Clark have made her an indispensable part of ESPN's NFL coverage.
She further cemented her status as one of the industry's top NFL reporters with the launch of her podcast, The Mina Kimes Show. Focusing on pro football, Kimes combines humor and insight into one of ESPN's most downloaded shows.
Deal Ensures Kimes' Continued Prominent ESPN Role
The new contract ensures ESPN will continue leaning heavily on Kimes' talents for its NFL programming over the next several years. Having emerged as a fan favorite, the network made locking her up a priority amidst its recent turbulent times.
For Kimes, the deal provides the job security and pay raise she has earned through hard work since joining ESPN nearly a decade ago. Even as online trolls occasionally complain about her lack of pro playing experience, Kimes' unmatched football IQ shines through in all her analysis.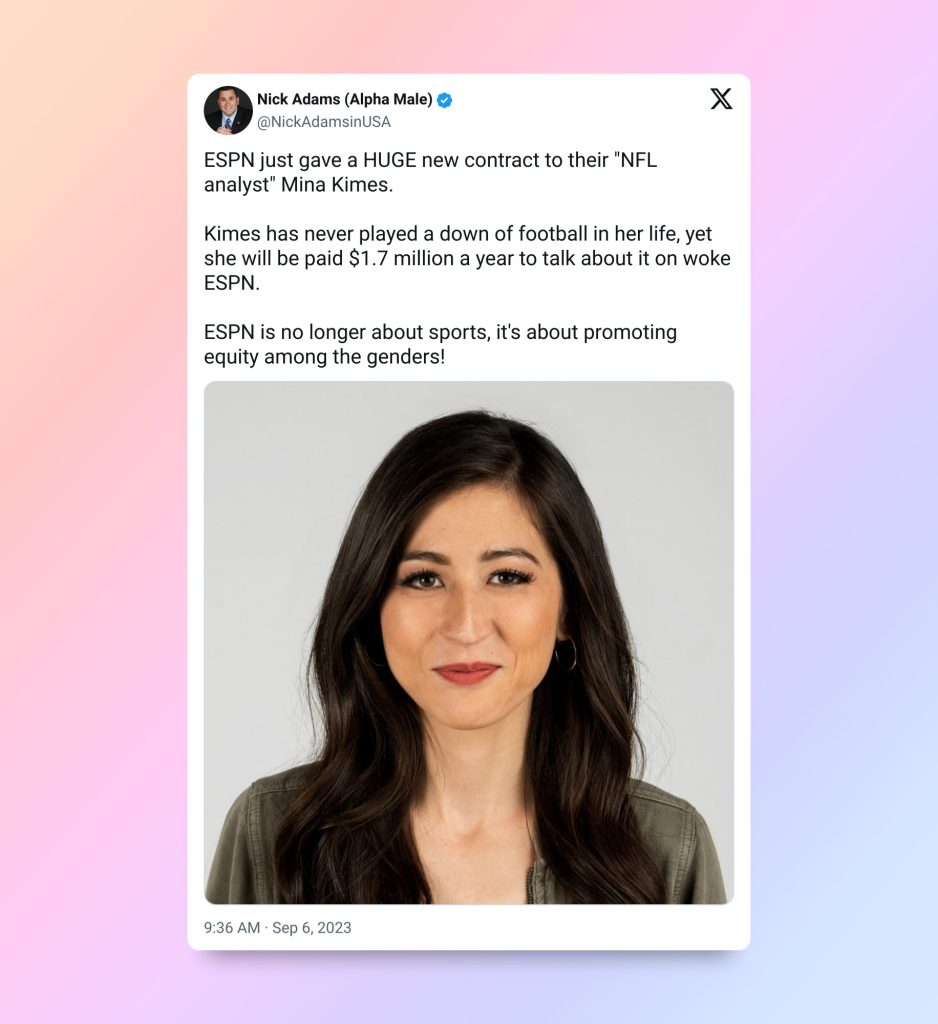 After speculation about potential free agency moves, Kimes is putting doubts about her future to rest. Thanks to a blockbuster contract, the NFL Live star will keep bringing her talents to ESPN for years to come.
Fun Facts about Mina Kimes
Mina Kimes was born on September 8, 1985, in Omaha, Nebraska, making her 38 years old as of 2023.
She is of Korean descent on her mother's side and American on her father's side. Her mother, Sun-Min Kimes, is of Korean descent, and her father, Peter Winston Kimes, served as a captain in the United States Air Force.
Mina Kimes' current contract with ESPN is worth a little over $1.7 million a year, with an additional carve-out for her podcasting endeavors, bringing the total deal to more than $2 million annually.
She is married to Nick Sylvester, a recording engineer and founding member of the alternative label Godmode. The couple got married in September 2015 at Material Culture in Philadelphia.
Mina Kimes grew up in Arizona after her family moved there during her teenage years. She attended Mesquite High School in Gilbert, Arizona, and later graduated summa cum laude from Yale University in 2007 with a Bachelor of Arts in English.
Mina Kimes is a fan of the Seattle Seahawks and the Seattle Mariners, partly due to her father being from Seattle.
Before joining ESPN, Mina Kimes worked as a journalist for Fortune, Bloomberg News, and other media outlets. She started her career at Fortune Small Business Magazine in 2007 and later became an investigative reporter for Bloomberg News in 2013.