College GameDay returned for another exciting season of college football predictions and fun. The GameDay crew of Lee Corso, Kirk Herbstreit, Desmond Howard, and Pat McAfee were joined by special guest picker musician Darius Rucker to make their Week 1 picks.
Corso Dons Carolina Blue Headgear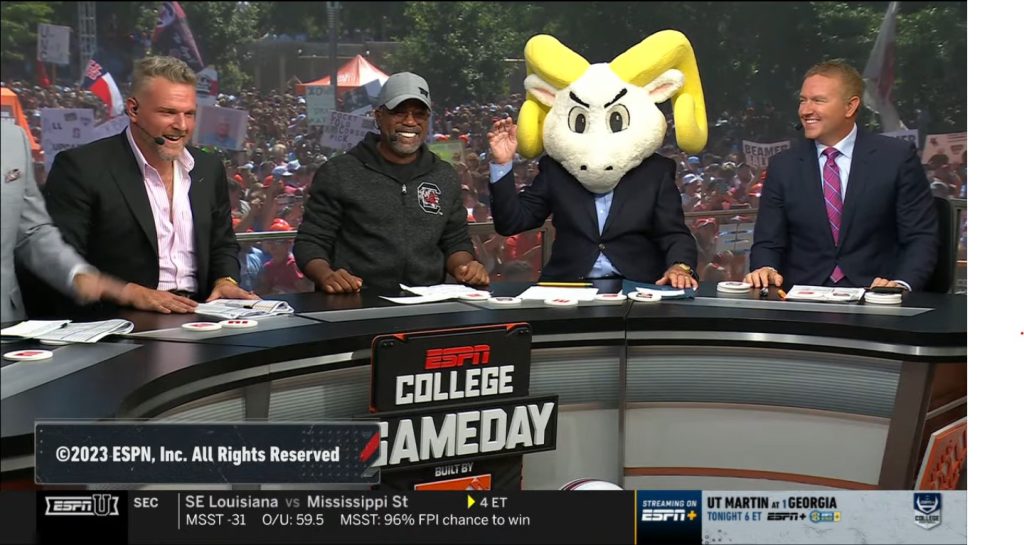 In his traditional style, Lee Corso made his headgear pick for the marquee game between North Carolina and South Carolina. Corso chose the Tar Heels, donning Carolina blue headgear and picking UNC to beat the Gamecocks.
Stanford Steve's Best Bets
Stanford Steve replaced the legend Chris "the bear" Fallica this year for the Gameday Picks. He revealed his "Six Pack" of best bets for Week 1:
Duke +13 vs Clemson
New Mexico +38 vs Texas A&M
South Alabama +6.5 vs Tulane
Florida State +2 vs LSU
UTSA -2 vs Houston
South Carolina +2.5 vs North Carolina
Steve likes the underdogs, with 5 of his 6 picks being dogs getting points.
Super Dog Picks for Week 1
The GameDay crew each gave out a "Super Dog" pick on a big underdog to cover the spread:
Lee Corso: North Texas +6 vs California
Kirk Herbstreit: North Texas +6 vs California
Desmond Howard: Boise State +14 vs Washington
Pat McAfee: Colorado +20.5 vs TCU
Stanford Steve: Colorado State +10.5 vs Washington State
Rece Davis: South Alabama +6.5 vs Tulane
The early Super Dog consensus is on North Texas catching nearly a touchdown against Cal.
Celebrity Guest Darius Rucker's Picks
Singer Darius Rucker joined the crew as the celebrity guest picker. Here were his picks:
Duke over Clemson
LSU over Florida State
Coastal Carolina over UCLA
Toledo over Illinois
Penn State over West Virginia
South Carolina over North Carolina
Houston over UTSA
Washington over Boise State
Ohio State over Indiana
Tennessee over Virginia
Purdue over Fresno State
TCU over Colorado
Rucker likes a decent number of underdogs, highlighted by taking South Carolina over UNC along with Duke and Toledo.
The Experts' Consensus Picks
Here are the consensus picks from Corso, Herbstreit, Howard, and McAfee:
Clemson over Duke
UCLA over Coastal Carolina
Illinois over Toledo
Penn State over West Virginia
Washington over Boise State
Ohio State over Indiana
Tennessee over Virginia
TCU over Colorado
No consensus picks for Florida State-LSU, North Carolina-South Carolina, or Houston-UTSA.
That wraps up the key picks and predictions from the College GameDay crew for Week 1! It looks to be another exciting Saturday of college football.