Chris "The Bear" Fallica has been a familiar face and voice to college football fans for over two decades on ESPN's iconic "College GameDay" program. But in a surprise move, The Bear is migrating to rival network Fox Sports after 27 years with ESPN.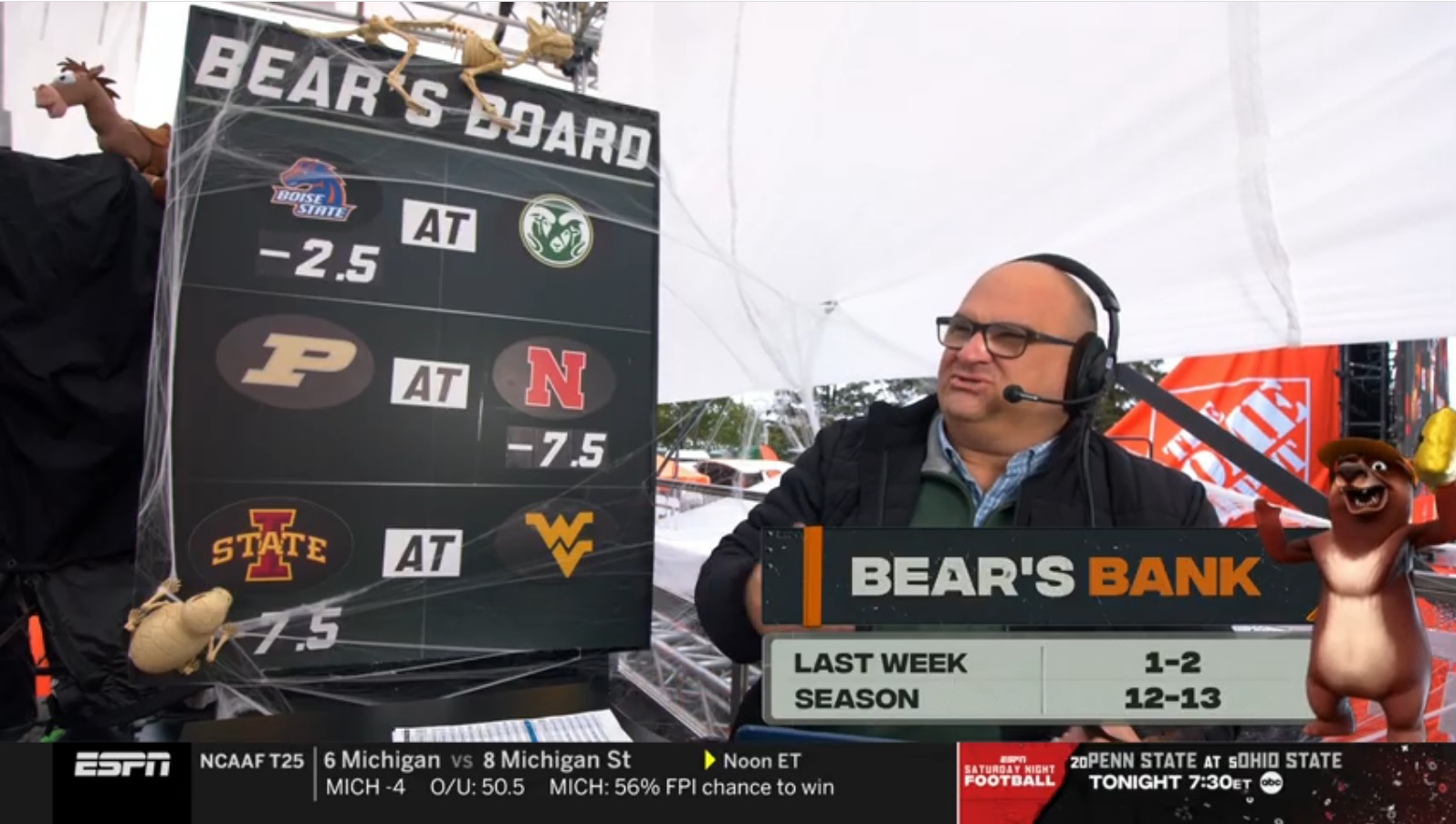 Humble Beginnings
Fallica's ESPN career began in 1995 as a production assistant for ESPN Radio. A year later in 1996, he joined the "College GameDay" crew as a researcher when the show was still establishing itself. For many years, he worked diligently behind the scenes supporting the on-air talent.
In 2013, after nearly 20 years behind the cameras, Fallica stepped in front of them for the first time as an on-air personality. He was given a new segment picking against-the-spread winners, embracing his knack for college football gambling analysis.
Rise to Prominence
Over the years, Fallica's popularity skyrocketed among loyal "GameDay" viewers. His picks segment made him a staple of the show every Saturday morning. Fans affectionately called him "The Bear" thanks to his burly build and furry beard.
Why Leave ESPN?
So why would a longtime ESPN fixture who found immense success there want to depart? It seems Fox Sports simply made him an offer he couldn't refuse, and it happened very quickly.
A New Den at Fox
Fox has rapidly expanded its own competing college football pregame show "Big Noon Kickoff" to challenge "GameDay's" dominance. And stealing established ESPN talent like Fallica is part of Fox's strategy.
Fallica also noted in interviews that the opportunity at Fox is more expansive, allowing him to contribute to many other sports and events like the World Cup, NFL, and more. Rather than being pigeonholed into college football, he'll get to spread his wings.
Big Noon Kickoff
The most immediate role for Fallica will be as part of the "Big Noon Kickoff" crew. He'll bring his popular picks and analysis to Fox's show every Saturday. Having a gambling expert on set can help Fox stand apart from GameDay.
Broad Sports Betting Presence
But Fox also wants to take advantage of Fallica's sports betting acumen across all their programming. He is expected to have a significant presence across Fox's various sports betting initiatives.
This indicates how seriously Fox wants to challenge ESPN in the growing sports gambling media space. Having a credible expert like The Bear leading the charge will lend them immediate credibility.
Bittersweet Farewell from ESPN
While grateful for his start, it was still difficult for Fallica to say goodbye to the ESPN family after so many years. His final "GameDay" show on December 3rd featured a special tribute send-off.
Longtime on-air colleagues like Lee Corso and Kirk Herbstreit shared heartfelt words about The Bear's impact over the decades. Though no longer an ESPNer, it's clear his legacy there will remain strong.
What's Next for The Bear
As he migrates to Fox Sports, Chris Fallica enters a new stage in his prolific career. He leaves behind his humble beginnings but carries invaluable experience that can elevate Fox's programming.
While ESPN will deeply miss his presence, fans can find The Bear in his new on-air habitat every Saturday morning. And his expertise will likely expand across Fox's platforms in exciting ways. So this likely won't be the last we see of the iconic, beloved figure that is Chris "The Bear" Fallica.