Scott Van Pelt Goes Wild With a 'Dirty Dozen' of Underdog Picks for Week 2. SVP is known for giving out his weekly "Winners!" picks on ESPN. After going 5-3 in Week 1, Van Pelt threw caution to the wind and picked a "dirty dozen" of 12 underdogs for Week 2. Never before has he picked so many teams getting points in one week. Will this strategy pay off or lead to another losing week? We break down all 12 of SVP's bold underdog plays for Week 2:
Scott Van Pelt Week 1 Picks
#12 Utah vs Baylor +8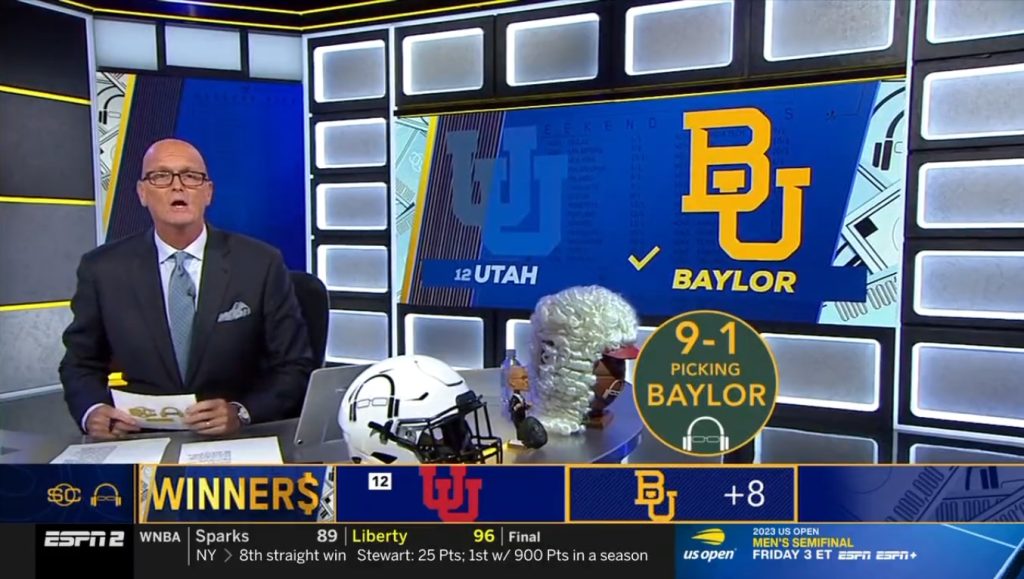 Utah vs Baylor +8
"Baylor, last seen getting obliterated by Texas State. Utah was beating Florida. Bears got a stiff in their backs in a hurry and showed some fight."
Scott's smelling an upset brewing in Waco with the Baylor Bears catching 8 points at home against Utah. The Utes went into the Swamp and took down Florida last week, while Baylor was busy getting obliterated by Sun Belt squad Texas State. But SVP thinks that beatdown may have been just what the doctor ordered to get some fight back in the Bears. After getting a stiffy put in their backs in Week 1, Scott expects Baylor to show some backbone against heavily favored Utah. The Utes can't overlook this tricky road spot after their emotional high of beating the Gators. SVP advises taking the points at home as Baylor should be breathing fire and have just enough in their backs to cover the spread and potentially pull off the outright upset.
---
Nebraska +3 vs #22 Colorado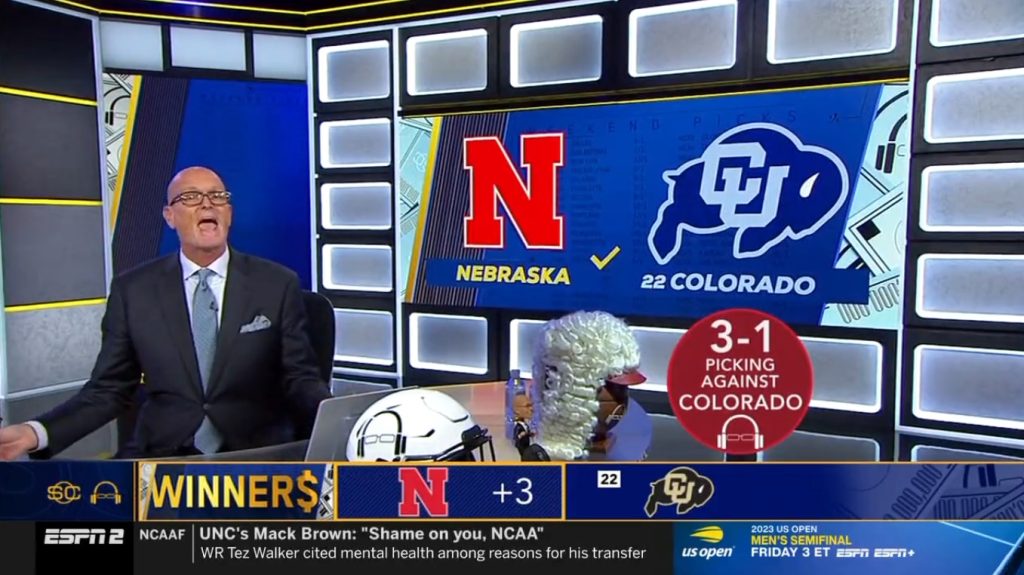 Van Pelt is calling this line "textbook" and a spot he's never seen more obvious to take Nebraska and lay the points. Everyone saw what Colorado did to TCU last week, and now the whole world is on the Buffaloes. Nebraska has much more talent and should be motivated to bounce back after letting a win slip away against Minnesota last week. Meanwhile, Colorado is coming off an emotional high and could be primed for a letdown. SVP advises to ignore the Week 1 noise and ride with Nebraska in this spot.
---
Troy +16.5 at #15 Kansas State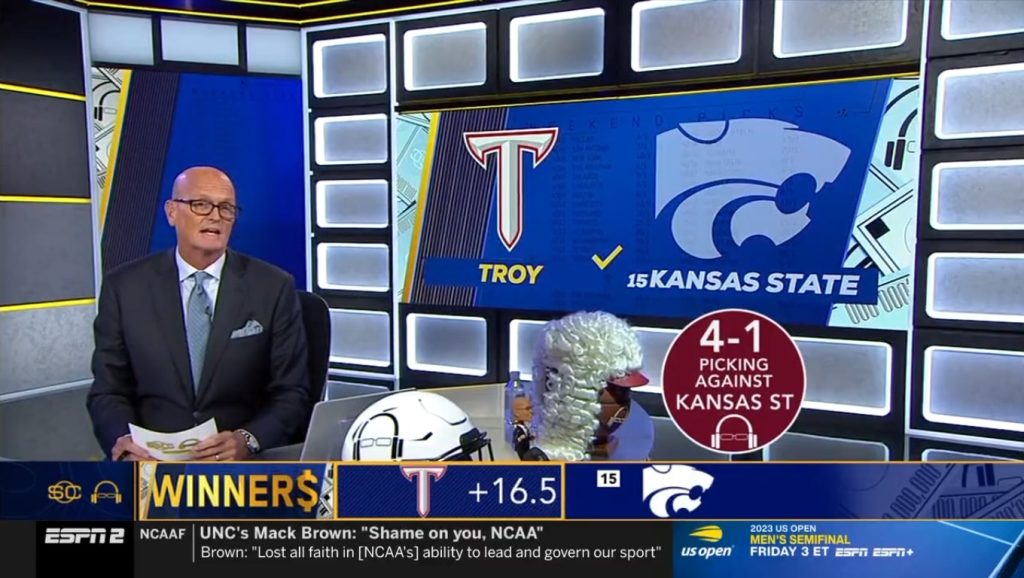 Scott's got a hankering for some Sun Belt action, calling himself "America's premier Sunbelt truther." Even after going 0-2 on Sun Belt underdogs last week, he's going right back to the well with Troy +16.5 against K-State. The Trojans have been a solid program in recent years, while the Wildcats have sometimes struggled with non-conference games. SVP thinks Troy can hang around in this one. Kansas State looked great demolishing SE Missouri St. last week, but it's a big step up in competition facing the Trojans. Scott advises taking the points and believing Troy can keep this one within 2 touchdowns on the road.
---
#10 Notre Dame vs NC State +7.5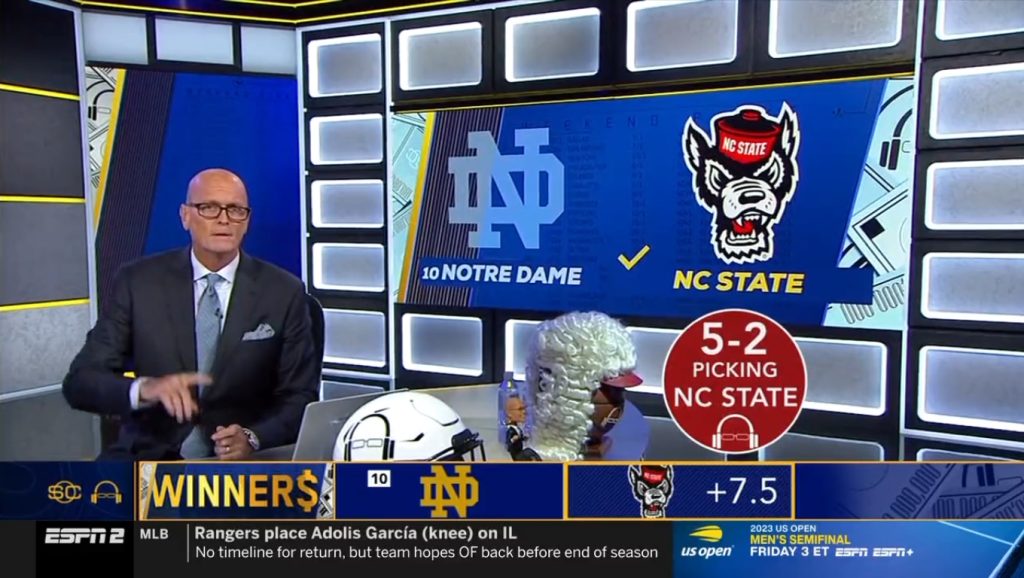 This line feels a touch steep for Van Pelt, as national power Notre Dame goes on the road to face a sturdy NC State team. The Wolfpack took care of business beating Connecticut last Thursday, while Notre Dame destroyed Tennessee State. But now the Fighting Irish face their first test away from home against an underrated foe. Scott thinks this could shape up as a dogfight. With two stout defenses, SVP is grabbing the points at home with the Wolfpack.
---
#20 Ole Miss vs Tulane +7.5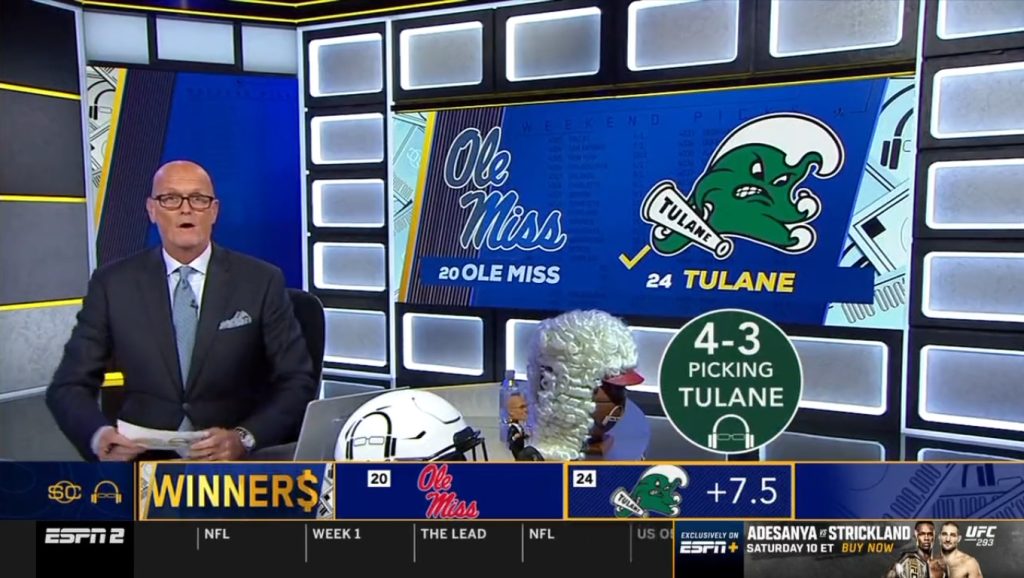 Scott faded Lane Kiffin's Rebels last week and got burned, admitting that was dumb because Ole Miss is "good good, not cute good." But this week he's back on the other side, taking feisty Tulane getting 7.5 points at home. Ole Miss is riding high after pounding Mercer, while Tulane also played well in their game against South Alabama. The Rebels have a couple SEC road games coming up, so this could be a tricky spot against a solid Green Wave team. Scott thinks taking the points at home gives Tulane a shot to keep Lane Kiffin sweating into the 4th quarter.
---
Houston vs Rice +9.5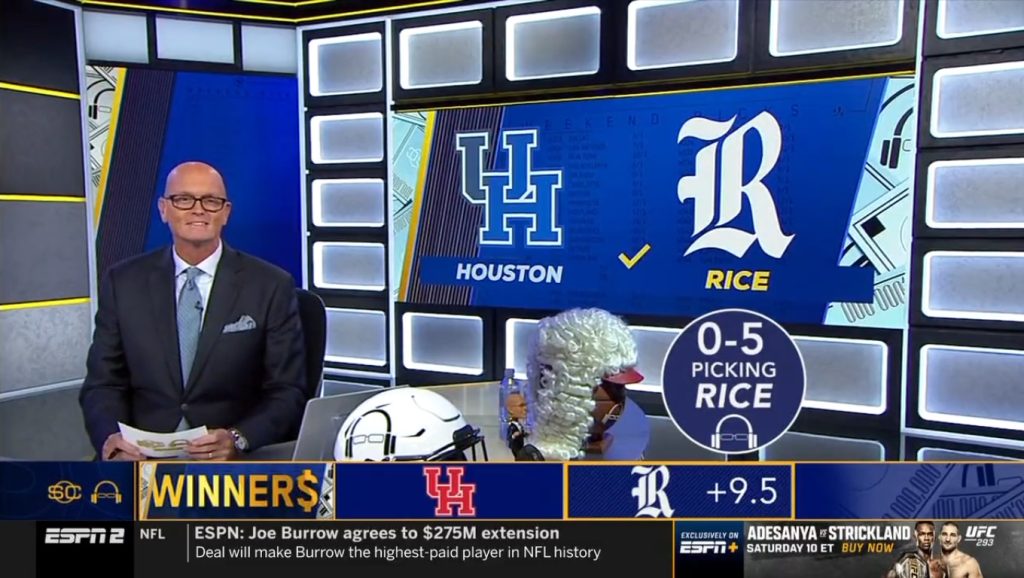 In what's become an annual tradition, Scott is backing the lowly Rice Owls again, saying "Why don't I take Rice on national TV?" Scotty figures 9.5 points is just too many for a home dog against an in-state rival. The Owls would love to give Houston a scare on national television. And even if Rice can't win it, Van Pelt advises taking the points and maybe they can backdoor cover in junk time.
---
#13 Oregon vs Texas Tech +6.5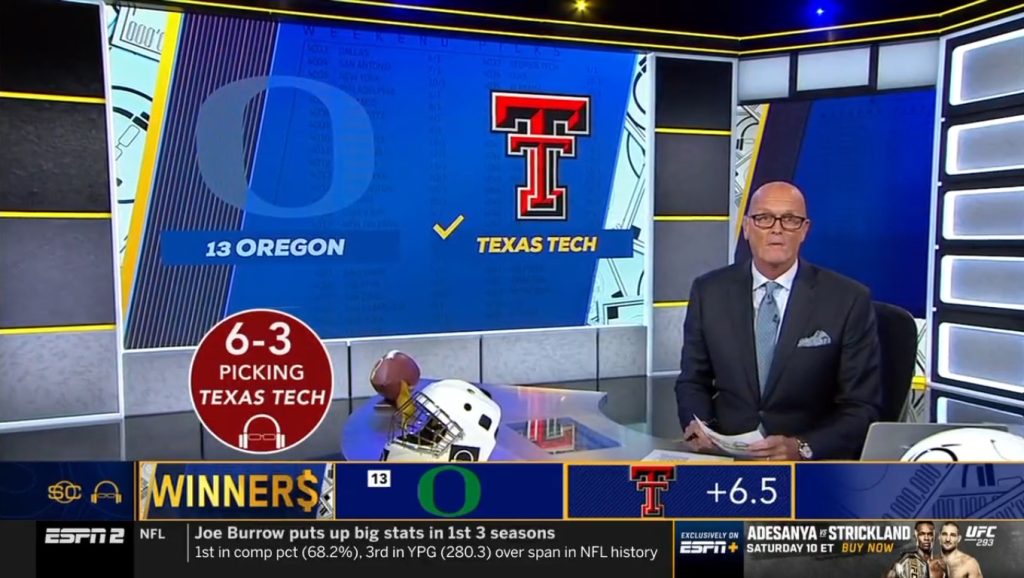 Scott is calling for Texas Tech to put up a fight at home against Oregon this week. The Red Raiders are getting over a touchdown at home against the Ducks, who have to make the long trip out to Lubbock. Scott thinks the Red Raiders have enough offensive firepower to keep pace with the Ducks' elite attack. Oregon has their sights set on the CFB Playoff, but Tech would love to throw a wrench in those plans. SVP advises grabbing the points at home as he expects the Red Raiders to battle and make this a one score game. Oregon has the talent edge but Texas Tech has the advantages of playing at home and catching over a touchdown.
---
Eastern Michigan +20.5 vs Minnesota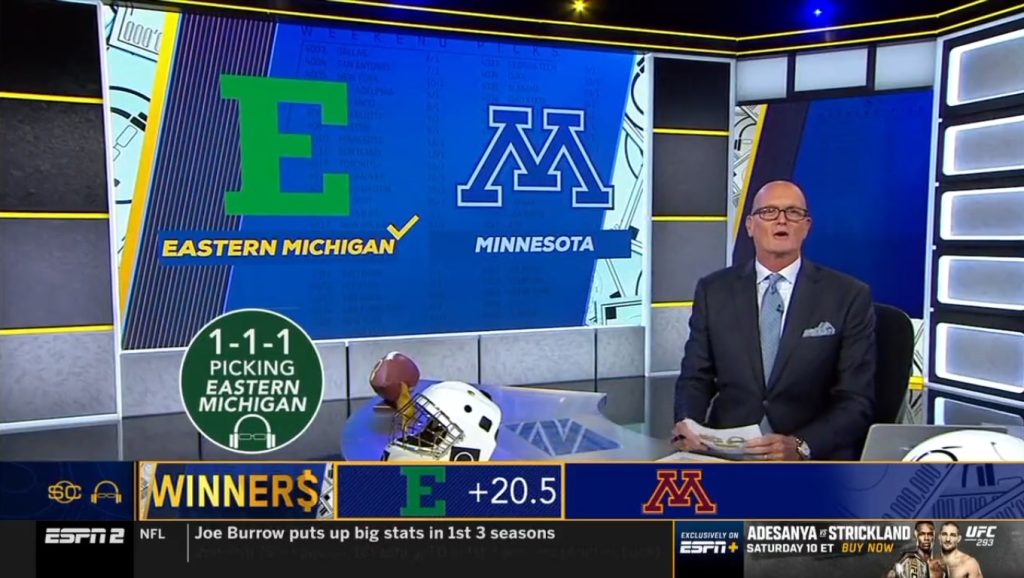 Scott's eyeing another tasty underdog with Eastern Michigan catching over 20 points against Minnesota. The Eagles are scrappy and live for these opportunities to take down Big Ten foes. Scott thinks they could be in letdown mode. The number is just too high to lay on the road. SVP advises grabbing the points at home with the hungry Eagles. Eastern Michigan has enough athleticism to keep up, and getting over three touchdowns gives them a great shot to cover and potentially pull off the outright upset.
---
Southern Miss +31 vs Florida State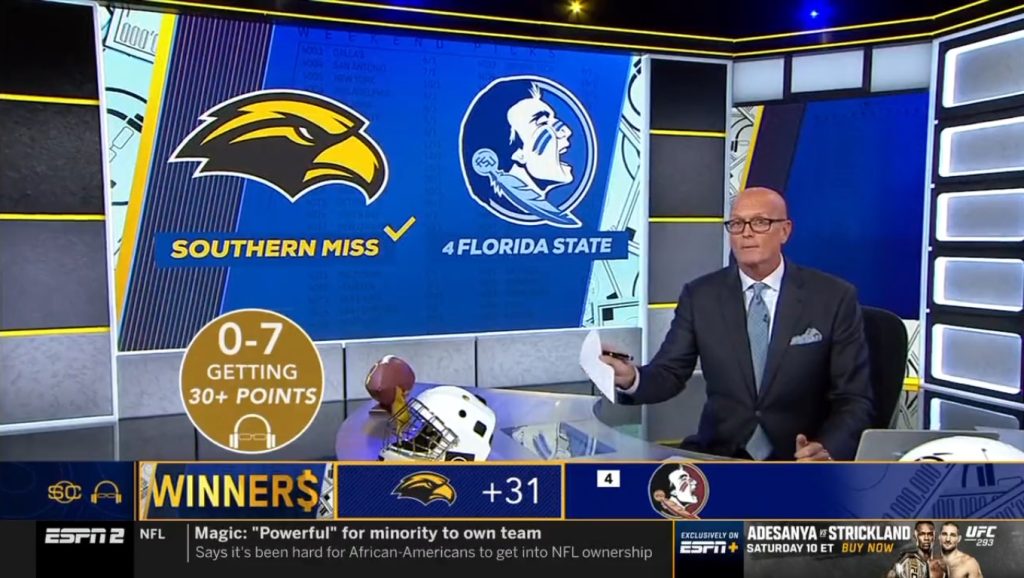 Scott likes the generous spread for Southern Miss catching over 30 points against Florida State. The Seminoles have to travel to Hattiesburg, which is never an easy road environment. Meanwhile, Southern Miss would be fired up for the chance to take down an FBS power at home. Scott thinks the big number gives the Golden Eagles a great shot to hang around. Southern Miss has enough talent to put up points and make the Seminoles work. SVP expects Florida State to win but thinks Southern Miss can do just enough to cover such a large spread, especially if FSU sleepwalks on the road after a big win. Scott tells Southern Miss to avoid getting rocked in the Rock against the deeper Seminoles. But getting over 30 points provides a nice backdoor cover if the game gets out of hand late.
---
Wisconsin vs Washington State +6
Scott is calling for the Cougars to put a scare into Wisconsin this week as a home underdog. The Badgers have to make the tough trip out to the Palouse, which is always a difficult place for visitors. Meanwhile, Washington State will be fired up for the chance to take down a Big Ten opponent. Scott thinks getting 6 points at home gives Washington State a great shot to cover and potentially pull the upset. Washington State has the offensive creativity to keep pace with the Badgers attack. SVP advises grabbing the points as he expects the Cougars to battle and make Wisconsin sweat this one out. The hostile road environment gives Washington State a key edge that makes them a live home dog in Scott's eyes.
---
Arizona +9 vs Mississippi State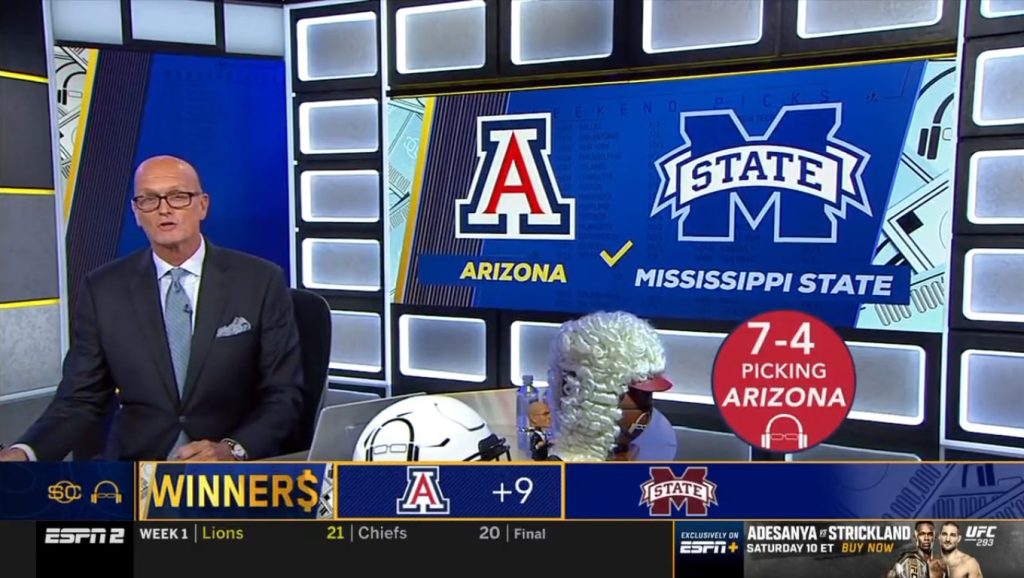 "We're taking two more dogs in the Pac-12. What are we doing? I don't know. The cats actually, not the dogs, from Arizona and a trip to Stark Vegas. Bulldogs pounded them in Tucson last year. We're on Arizona."
---
Auburn vs Cal +6.5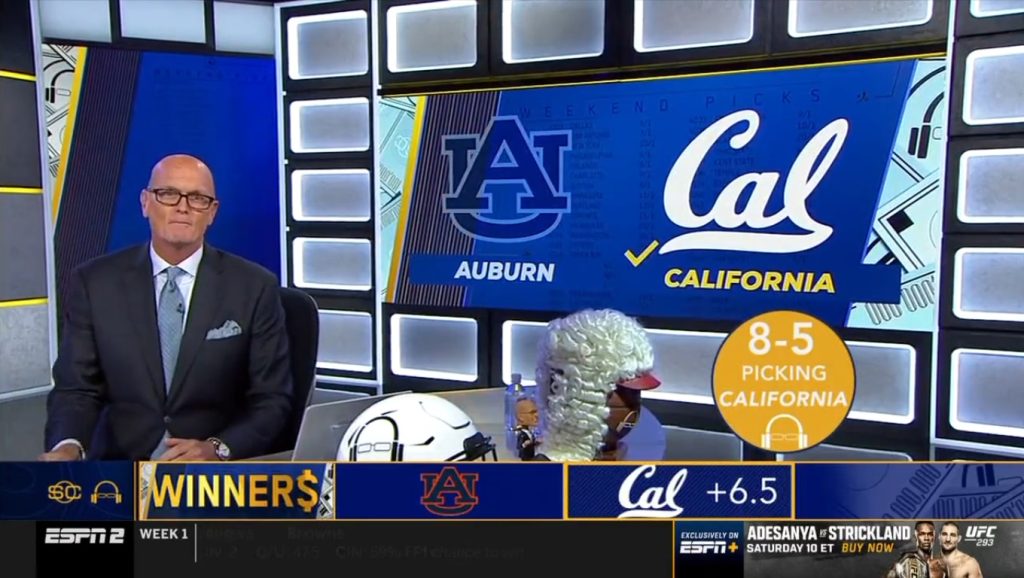 "Finally, Cal, getting a few from Auburn at home. Both won in blowouts last week. I didn't have the guts to go with the Swersky and go for the Baker's dozen."
---
Stanford Steve Week 2 Pick
Northwestern +1 vs Duke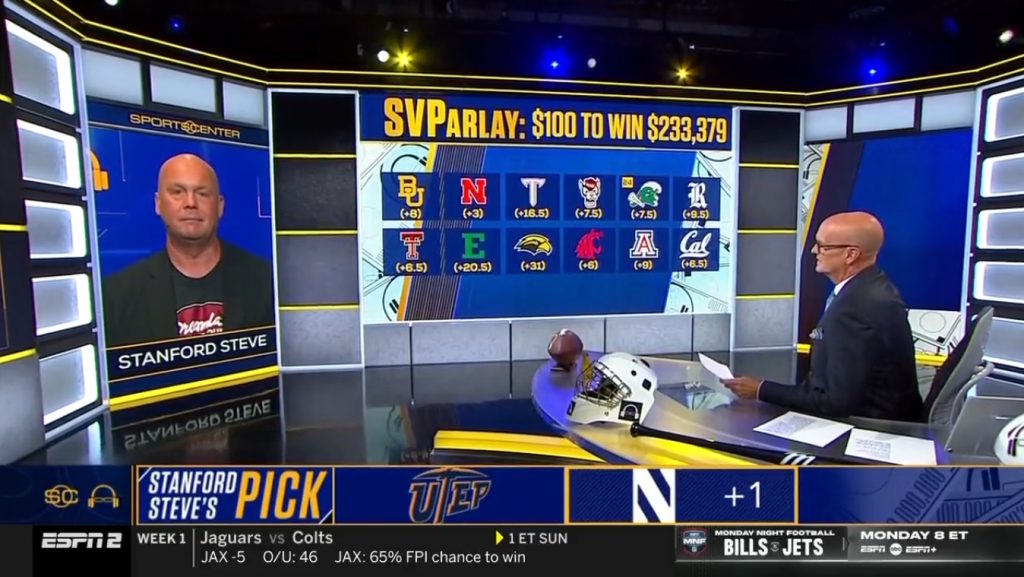 "But there's one team missing from that list. One team. We talked about them. They're bad. As bad as anybody's. And I'm taking them this week. Northwestern is getting a point at home. Give me the purple cats. They can't do it, Steve. They can't do it. I watched them against Rutgers. They can't do it. You're on Northwestern? Give me them."
Steve couldn't resist jumping in to add one last underdog to Scott's unprecedented "dirty dozen" card. He's backing the hapless Northwestern Wildcats. Scott laughs at the pick, certain that Northwestern "can't do it." But Stubborn Steve is sticking with his guns, insistent on taking the ugly underdog. He watched the Wildcats against Rutgers and thinks they can scrounge up enough to hang on for the cover at home against Duke. Scott wants nothing to do with Northwestern, but Steve is boldly laying a point on the ragged Wildcats to round out this wild week of underdog plays.
---
SVP Week 2 Picks
Baylor +8 vs Utah
Nebraska +3 vs #22 Colorado
Troy +16.5 at #15 Kansas State
NC State +7.5 vs #10 Notre Dame
Tulane +7.5 vs #20 Ole Miss
Rice +9.5 vs Houston
Texas Tech +6.5 vs #13 Oregon
Eastern Michigan +20.5 at Minnesota
Southern Miss +31 vs Florida State
Washington State +6 vs Wisconsin
Arizona +9 at Mississippi State
Cal +6.5 vs Auburn
Northwestern +1 vs Duke (Stanford Steve)