Colin went 2-3 last week, which brings his overall standing to a very middle-of-the-road 21-21-3. It's always a wild ride with Cowherd's picks – sometimes he's spot on, other times, well, not so much. Let's see what he has in store for us this time around as he tries to improve that .500 record!
Blazing 5 Picks for Week 10:
49ers at Jaguars – Jacksonville +3
Lions at Chargers – Detroit -3
Giants at Cowboys – Dallas -17.5
Commanders at Seahawks – Seattle -6.5
Broncos at Bills – Denver +7
Blazing 5 Picks for Week 14:
Panthers vs Saints: Carolina Panthers (+5.5)
Jaguars vs Browns: Cleveland Browns (-3)
Lions vs Bears: Chicago Bears (+3)
Broncos vs Chargers: Denver Broncos (+2.5)
Bills vs Chiefs: Kansas City Chiefs (-1.5)
Colin's Blazing 5 Predictions for Week 14:
Game 1: Panthers at Saints

Spread: NO -5.5.
Colin's Pick: Carolina +5.5.
Prediction: Panthers win 26-24.
Rationale: Panthers' strong defense recently and Saints' weaknesses, including coaching and player performance issues.

Game 2: Jaguars at Browns

Spread: CLE -3.
Colin's Pick: Cleveland -3.
Prediction: Browns win 24-13.
Rationale: Browns' strong home performance and defensive capabilities, Jaguars' injuries and poor performance in cold weather.

Game 3: Lions at Bears

Spread: DET -3.
Colin's Pick: Chicago +3.
Prediction: Bears win 24-23.
Rationale: Bears' rush defense and recent performance, Lions' defensive struggles, and cold weather impact on Lions' quarterback Jared Goff.

Game 4: Broncos at Chargers

Spread: LAC -2.5.
Colin's Pick: Denver +2.5.
Prediction: Broncos win 27-24.
Rationale: Denver's defensive improvement, coaching advantage, and Chargers' overall weaknesses.

Game 5: Bills at Chiefs

Spread: KC -1.5.
Colin's Pick: Kansas City -1.5.
Prediction: Chiefs win 30-27.
Rationale: Patrick Mahomes' record after losses, Chiefs' strong defense this season, and Bills' inconsistencies in big games.
49ers at Jaguars – Jacksonville +3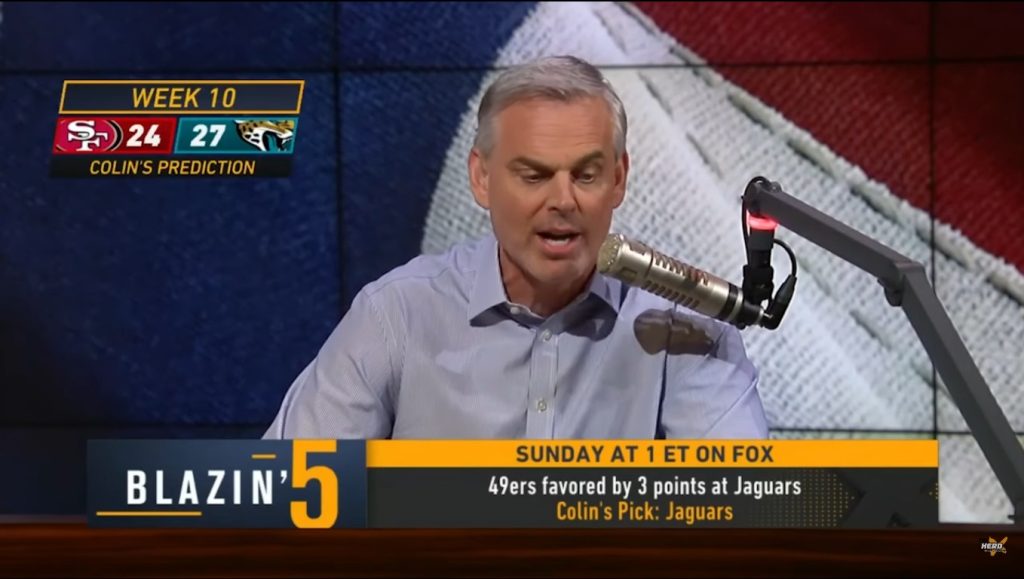 Jacksonville's performance this season has caught many by surprise, and Cowherd believes this trend will continue. The Jaguars, coming off a bye and playing at home, are seen as underdogs, but with Trevor Lawrence showing remarkable growth and their NFC record standing strong, Cowherd sees value in Jacksonville. He highlights their improved defense and the 49ers' shaky quarterback situation as key factors. Cowherd predicts a close contest but leans towards the Jaguars, forecasting a 27-24 victory.
Lions at Chargers – Detroit -3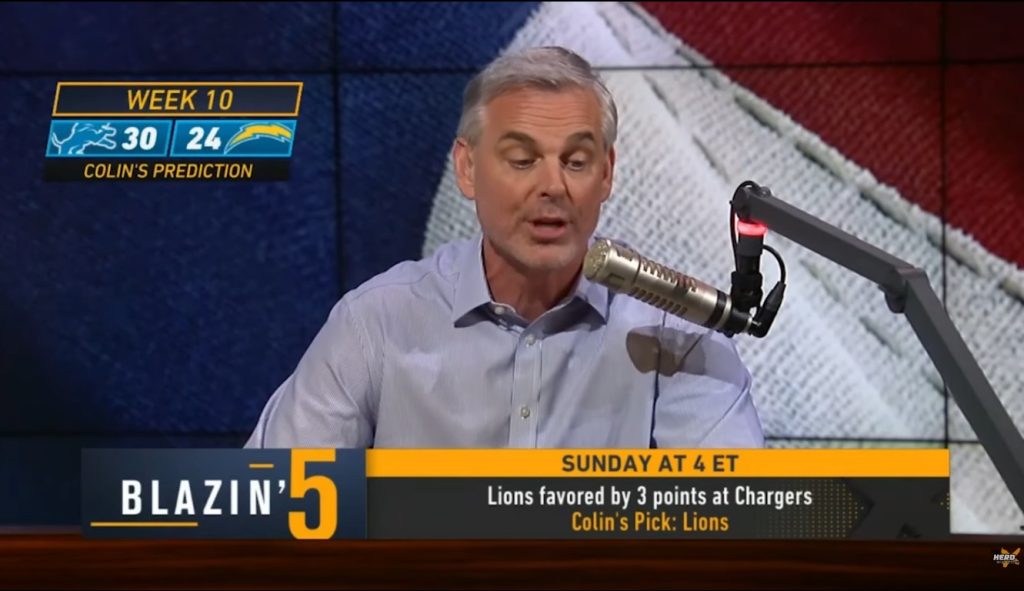 Cowherd is particularly enthusiastic about this pick. He points out the Lions' unexpected defensive prowess and their solid road record. The Chargers, on the other hand, have struggled against stronger teams and are missing key players, which Cowherd sees as a significant disadvantage. He believes Detroit's balanced offense and improved defense will carry them to a win, predicting a final score of 30-24 in favor of the Lions.
Giants at Cowboys – Dallas -17.5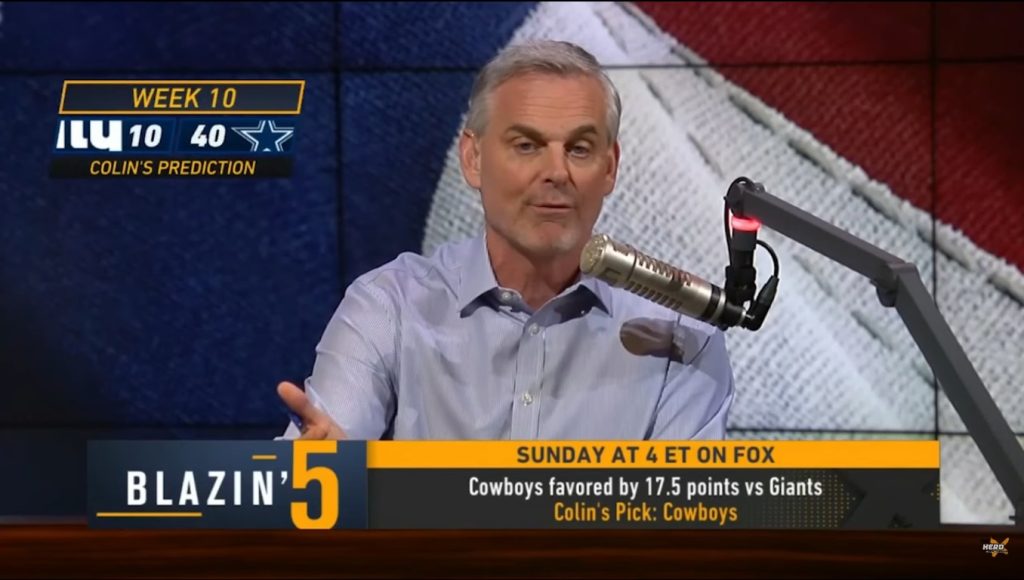 In an unusual move, Cowherd opts for the heavily favored Cowboys despite the large spread. He cites Dallas' impressive record following losses and their ability to dominate weaker teams. With the Giants' offense struggling significantly and key players missing, Cowherd doesn't see them keeping up with the Cowboys. He predicts a dominant Dallas win, 40-10, emphasizing their home-field advantage and overall team strength.
Commanders at Seahawks – Seattle -6.5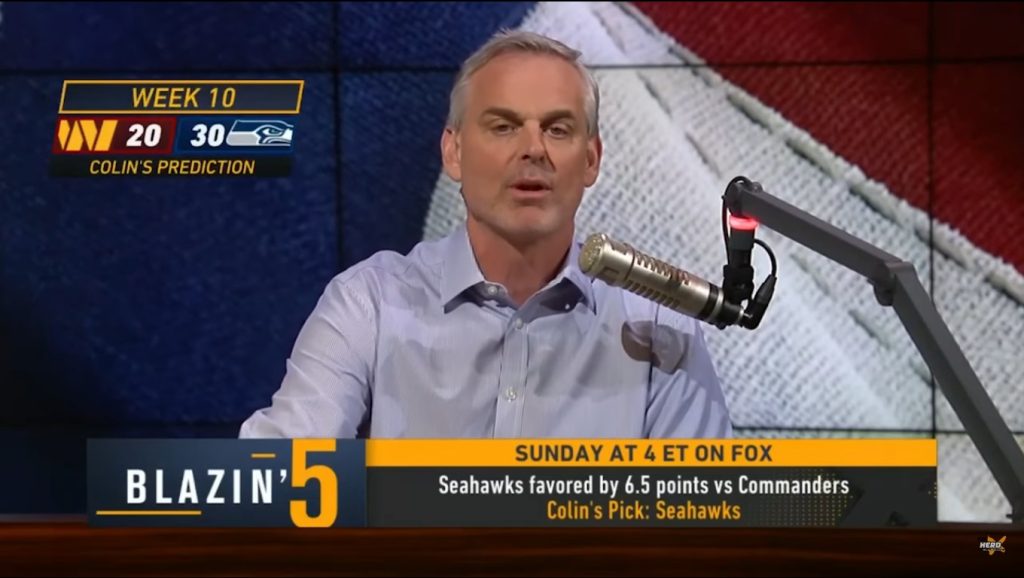 Ignoring the Seahawks' recent loss to Baltimore, Cowherd focuses on their overall solid home performance and a rejuvenated pass rush. He notes the Commanders' struggles, particularly their vulnerable offensive line and weakened defense. Believing that Seattle will bounce back strongly, Cowherd predicts a 30-20 victory for the Seahawks, emphasizing their home-field advantage and the overall cohesiveness of Pete Carroll's team.
Broncos at Bills – Denver +7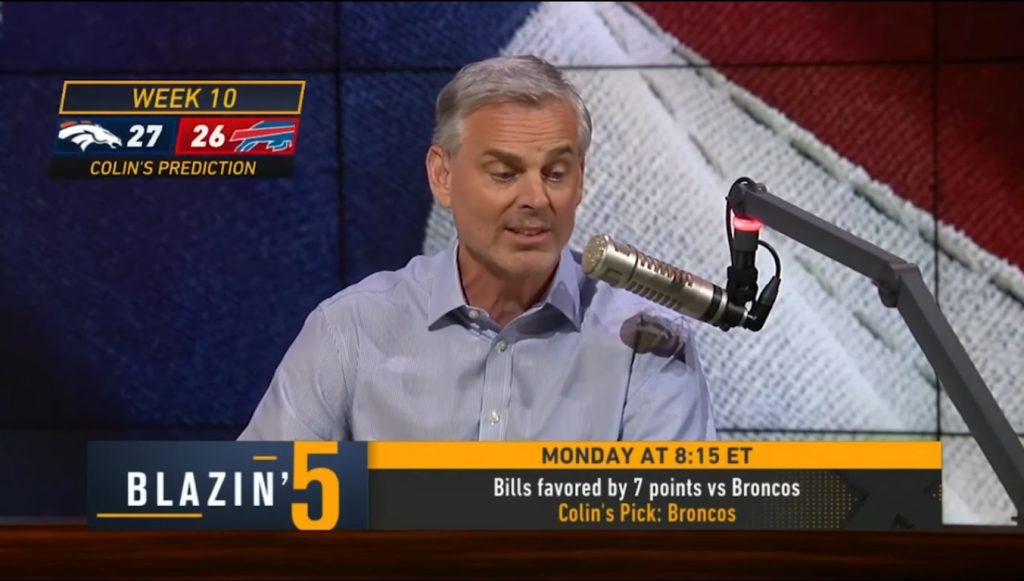 Cowherd views this as an upset pick, favoring the underdog Broncos against a Buffalo team he perceives as weakened by injuries. He highlights Denver's improved running game and defense, along with Russell Wilson's effective role as a complementary player. Cowherd acknowledges Buffalo's struggles in recent games, predicting a close contest but ultimately siding with Denver in a narrow 27-26 win.