After finally getting his first winning week of the season at 3-2, Colin Cowherd triumphantly moves to an overall record of 3-11-1 on his Blazing 5 NFL picks. This monumental achievement has Cowherd feeling like he's really turned the corner, as he makes his Blazing 5 picks for Week 4 action with his chest puffed out.
Blazing 5 Picks for Week 4:
Jaguars (-3) at Falcons
Dolphins at Bills (-3)
Bengals at Titans (+2.5)
Vikings (-4) at Panthers
Patriots (+6.5) at Cowboys
Blazing 5 Picks for Week 14:
Panthers vs Saints: Carolina Panthers (+5.5)
Jaguars vs Browns: Cleveland Browns (-3)
Lions vs Bears: Chicago Bears (+3)
Broncos vs Chargers: Denver Broncos (+2.5)
Bills vs Chiefs: Kansas City Chiefs (-1.5)
Colin's Blazing 5 Predictions for Week 14:
Game 1: Panthers at Saints

Spread: NO -5.5.
Colin's Pick: Carolina +5.5.
Prediction: Panthers win 26-24.
Rationale: Panthers' strong defense recently and Saints' weaknesses, including coaching and player performance issues.

Game 2: Jaguars at Browns

Spread: CLE -3.
Colin's Pick: Cleveland -3.
Prediction: Browns win 24-13.
Rationale: Browns' strong home performance and defensive capabilities, Jaguars' injuries and poor performance in cold weather.

Game 3: Lions at Bears

Spread: DET -3.
Colin's Pick: Chicago +3.
Prediction: Bears win 24-23.
Rationale: Bears' rush defense and recent performance, Lions' defensive struggles, and cold weather impact on Lions' quarterback Jared Goff.

Game 4: Broncos at Chargers

Spread: LAC -2.5.
Colin's Pick: Denver +2.5.
Prediction: Broncos win 27-24.
Rationale: Denver's defensive improvement, coaching advantage, and Chargers' overall weaknesses.

Game 5: Bills at Chiefs

Spread: KC -1.5.
Colin's Pick: Kansas City -1.5.
Prediction: Chiefs win 30-27.
Rationale: Patrick Mahomes' record after losses, Chiefs' strong defense this season, and Bills' inconsistencies in big games.
Jaguars (-3) at Falcons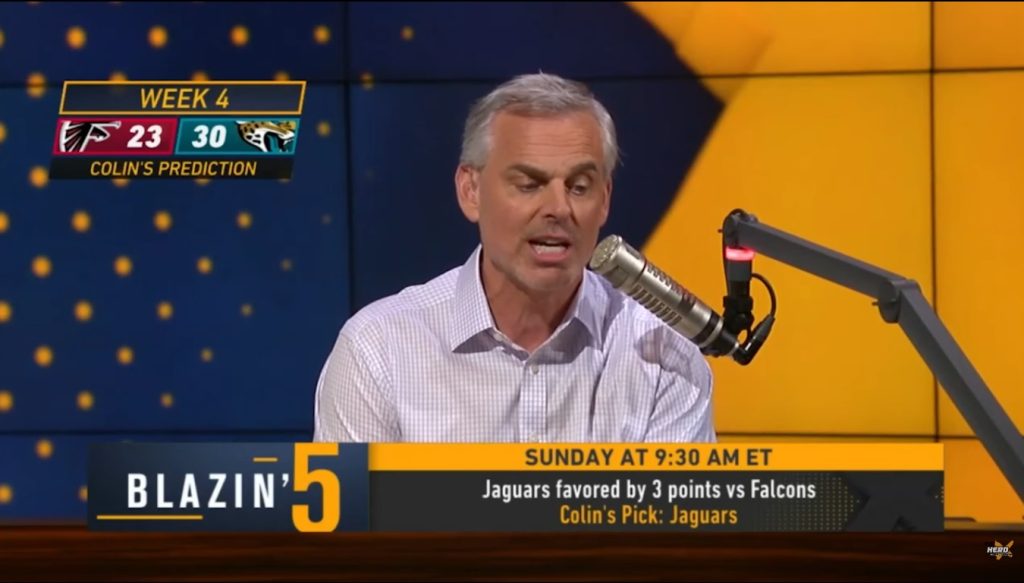 Cowherd is taking the Jaguars -3 because they play well in London, going 21-9 there over the years, and this is their 10th trip. Trevor Lawrence has graded well despite a bad Chiefs game, and the Falcons have no pass rush and a struggling offense. Cowherd predicts a 30-23 Jaguars win.
Dolphins at Bills (-3)
Cowherd is taking the Bills -3 because they have a top 3 offense and defense, can control the clock and limit Tua. Josh Allen has owned Miami and their defense is weak. He sees the Bills getting right in a 31-27 win.
Bengals at Titans (+2.5)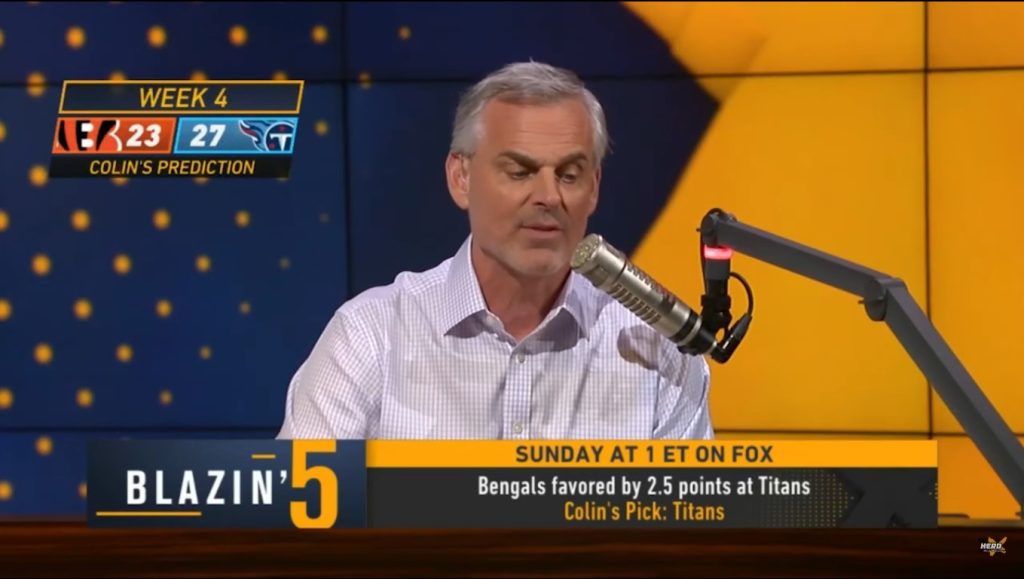 Cowherd takes the Titans +2.5 since coach Mike Vrabel is great as an underdog. The Bengals are struggling offensively on a short week, while Tennessee can pull the upset, 27-23.
Vikings (-4) at Panthers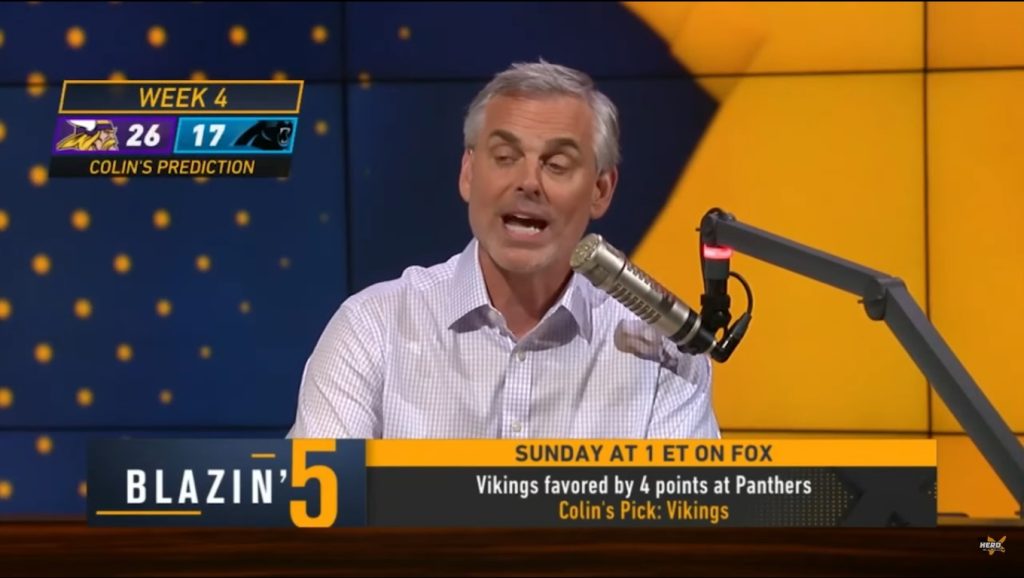 Cowherd likes the Vikings -4 because despite being 0-3 they move the ball well but have fluky turnovers. Carolina has no perimeter playmakers for their QB. Minnesota wins 26-17.
Patriots (+6.5) at Cowboys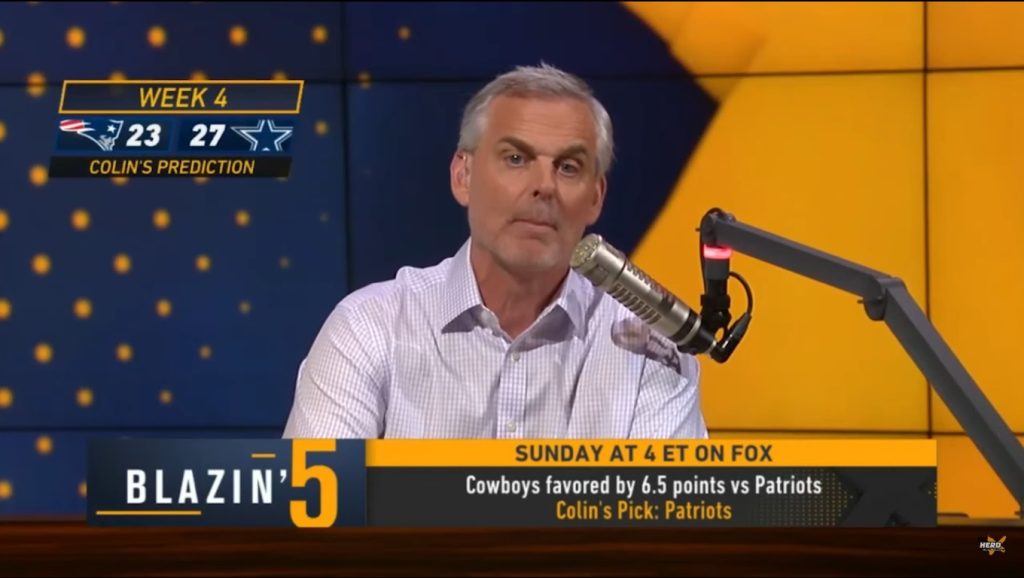 Cowherd takes the Patriots +6.5 in a potential low-scoring game. New England has a great defense to slow Dallas. With Dak Prescott struggling behind a banged up line, he sees a close Cowboys 27-23 win.