Legendary sports media personality Colin Cowherd revealed his highly anticipated "Blazing 5" NFL picks for Week 1. Cowherd is going against the oddsmakers and taking these picks:
Update: Here's Colin's Week 2 Picks
Steelers (+2.5)
Colts (+4.5)
Patriots (+4)
Chargers (-3)
Giants (+3.5)
Cowherd believes the Steelers' elite defense and Kenny Pickett's return will fuel an upset over the 49ers. He likes the element of surprise with the Colts' new coaching staff against the rebuilding Jaguars. Cowherd has faith in Bill Belichick to cover at home against the Eagles. He sees Daniel Jones and an improved Giants team shocking the Cowboys. The only favorite he's backing is the Chargers with a healthy offense and defense versus the Dolphins.
Last Season's 2022 Blazin' 5 record: 44-37-4
Colin Cowherd Blazing Five Week 1 Picks
San Francisco at Pittsburgh (+2.5)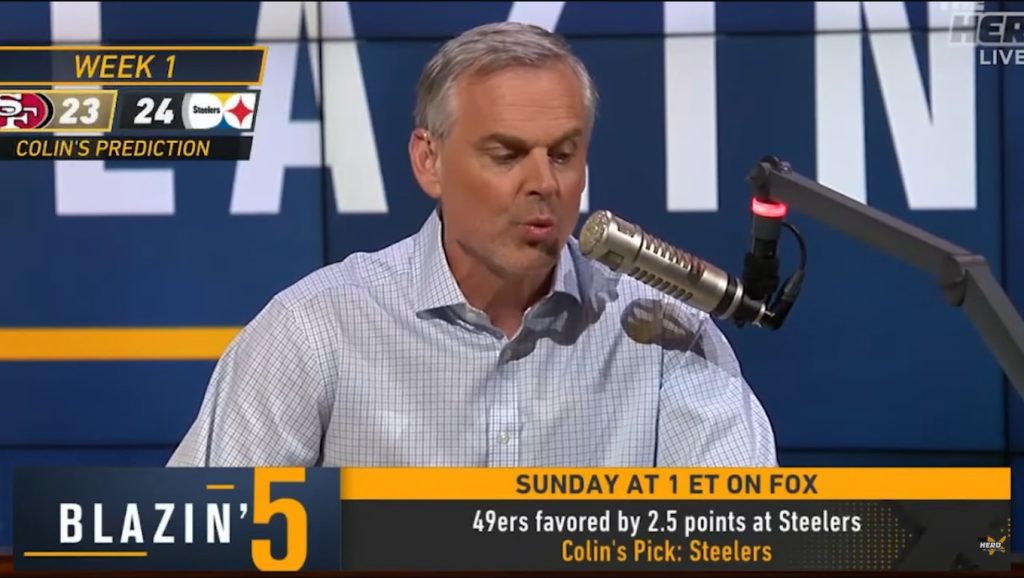 Colin Cowherd is taking the Pittsburgh Steelers (+2.5) against the San Francisco 49ers because the Steelers ended last season on a four-game winning streak and went 5-0 when Kenny Pickett was healthy. TJ Watt also returns from injury, and the Steelers have emerging offensive stars like Deonte Johnson, George Pickens, and others. Their defense was elite over the last seven weeks of last season and can match up with the 49ers' defense.
Meanwhile, San Francisco has uncertainty at quarterback with Brock Purdy and a new defensive coordinator, Demico Ryan is also gone. Cowherd sees this as a tough spot for the 49ers and believes the Steelers will win 24-23 to cover the 2.5 point spread, which is why he is taking Pittsburgh.
---
Jacksonville at Indianapolis (+4.5)
Colin Cowherd is taking the Indianapolis Colts (+4.5) against the Jacksonville Jaguars because home underdogs in divisional matchups are 7-0 against the spread in Week 1 the last 5 years.
The Colts have the element of surprise with new head coach Shane Steichen, who Cowherd calls a great coach. Linebacker Shaq Leonard is also back healthy, which boosts the Colts defense. Their offensive line is ranked 10th and can control the ball.
Meanwhile, the Jaguars were just 1-5 as favorites last season under Doug Pederson. Their offensive line is a bit of a mess and teams ran all over them last year, including quarterbacks who had great success. Rookie QB Anthony Richardson may be the best running QB already for the Jaguars. Cowherd sees the Colts pulling the upset 24-23.
---
Philadelphia at New England (+4)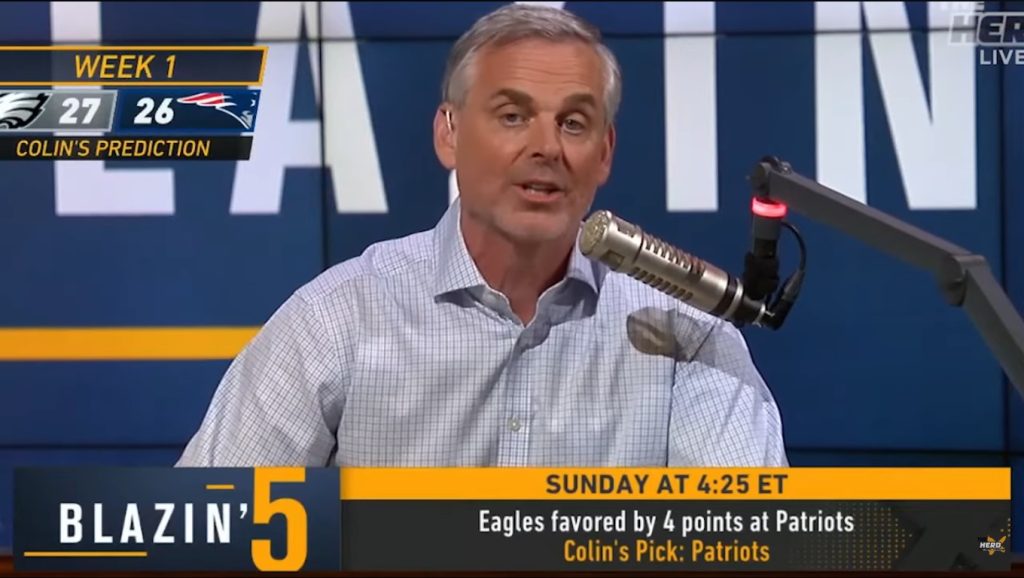 Colin Cowherd is taking the New England Patriots +4 against the Philadelphia Eagles because Bill Belichick is 16-7 in Week 1 as a head coach and has a great opening day record. The Patriots now have a real offensive coordinator in Bill O'Brien and have added productive offensive weapons like Juju Smith-Schuster and tight end Mike Gasiciki.
The Patriots defense was top 3 in takeaways and interceptions last year and they return 19 of 22 starters. Meanwhile, the Eagles lost both of their coordinators from last season. While they have talent to replace them like Miles Sanders and Javon Hargrave, there will be an adjustment period. Cowherd sees this as a close Eagles win, but believes the Patriots will cover the 4 point spread in a 27-26 loss. That's why he is taking New England and the points.
---
Miami at L.A. Chargers (-3)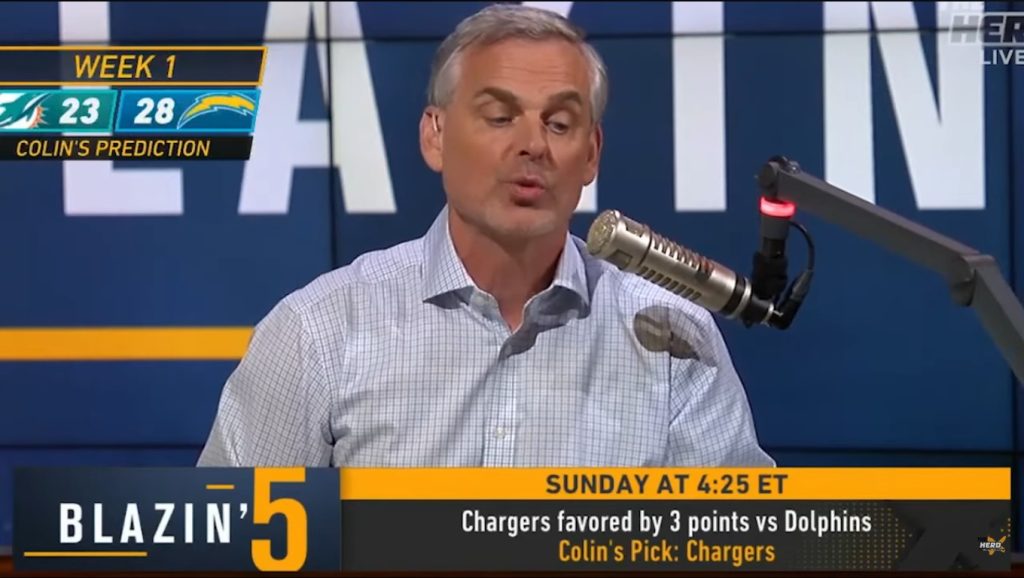 Colin Cowherd is taking the Los Angeles Chargers -3 against the Miami Dolphins because he believes new Chargers offensive coordinator Kellen Moore is a difference maker.
The Chargers offensive line is healthy with the return of left tackle Rashawn Slater and their defense was a top 3 scoring defense the last 5 weeks last season when healthy.
Meanwhile, the Dolphins have uncertainty on their offensive line with Terron Armstead injured and not practicing. Cowherd didn't like their o-line even with Armstead healthy.
Also, the Dolphins have to travel across the country for this game. Cowherd sees this as a tough spot for Miami, which is why he likes the Chargers as the only favorite he is backing this weekend.
He predicts a 28-23 Los Angeles win to cover the 3 point spread.
---
Dallas at N.Y. Giants (+3.5)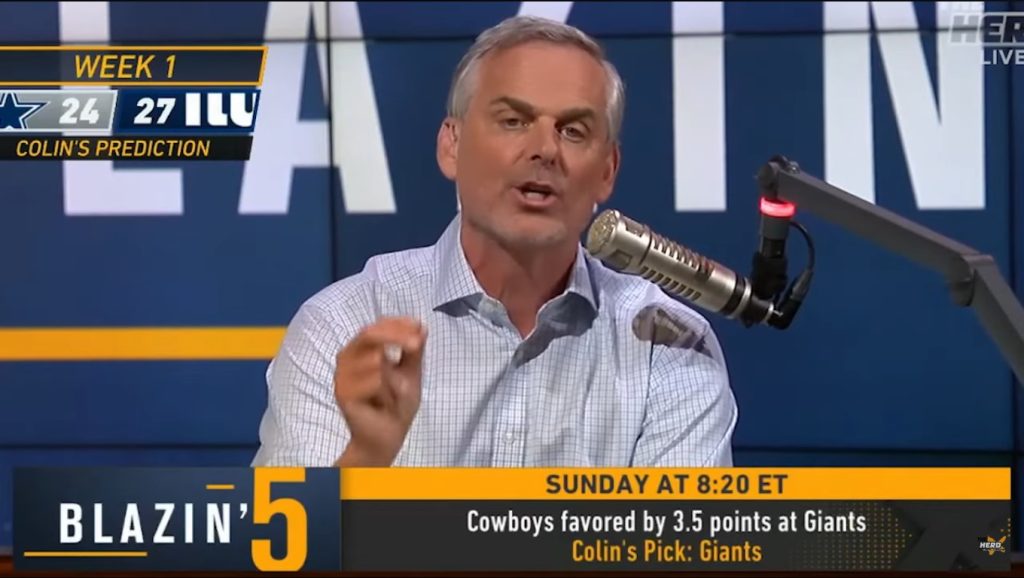 Colin Cowherd is taking the New York Giants +3.5 against the Dallas Cowboys because Giants coach Brian Daboll is 13-4 against the spread as an underdog.
The Giants have added tight end Darren Waller and explosive rookie receiver Jalen Hyatt to help their passing game. Quarterback Daniel Jones was solid at home last season with a 94 passer rating and 16 TDs to just 3 INTs.
Meanwhile, the Cowboys were just a .500 team on the road last year and lost offensive coordinator Kellen Moore. They also have offensive line issues with Tyron Smith hurt and rookie Tyler Smith at left guard. Cowherd believes the Cowboys coaching staff is overrated outside of the defensive coordinator.
He sees Daniel Jones and the Giants offense improving in year two under Daboll with better weapons. Cowherd predicts the Giants will shock America and beat the Cowboys 27-24, covering the 3.5 point spread.