Colin Cowherd is back with his Week 9 NFL picks, and he's looking to beat his record from last week. He had a winning record last week going 2-1-2, which puts in at 19-18-3 on the year. Let's check out who he thinks will win this week!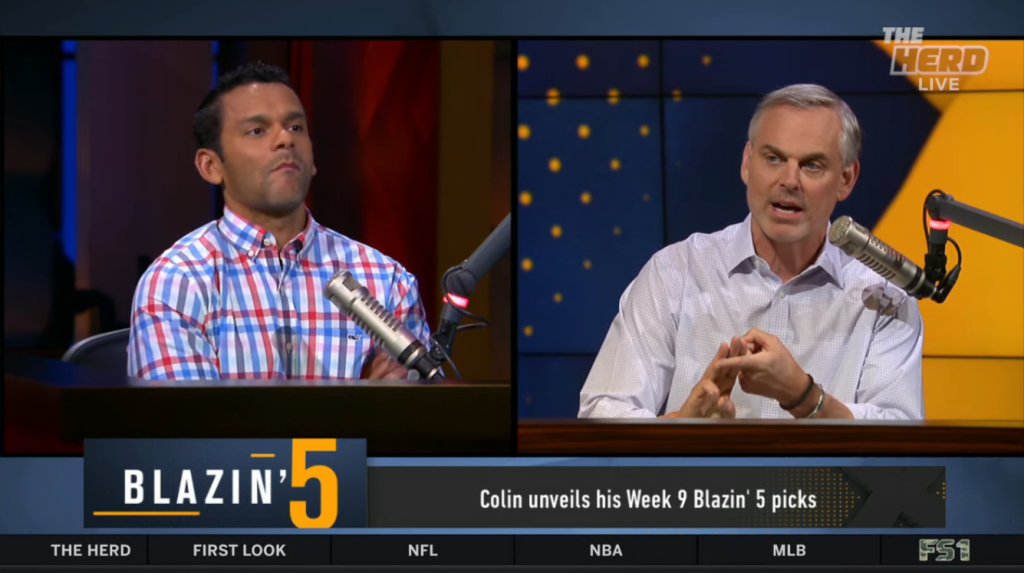 Blazing 5 Picks for Week 9: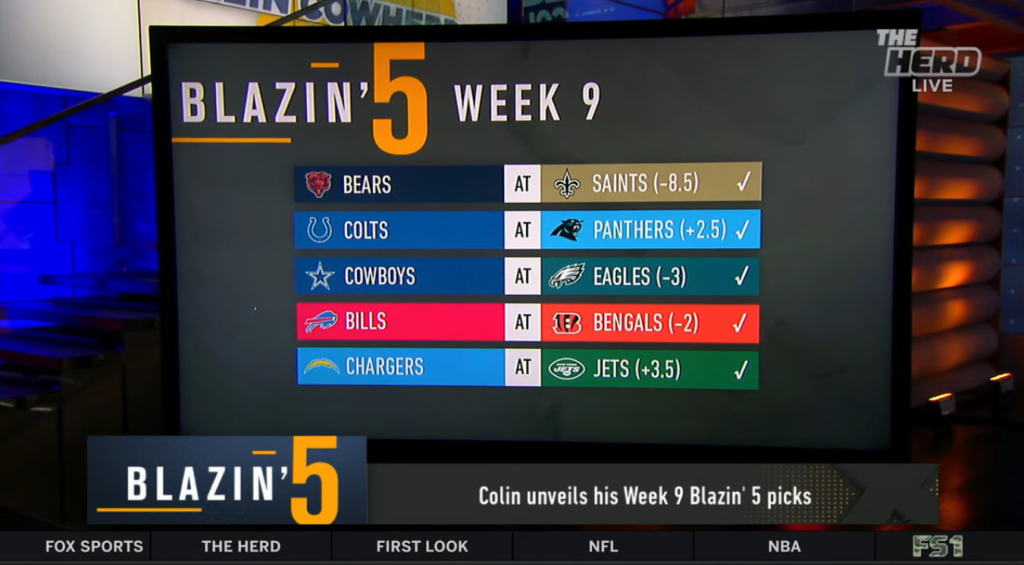 Bears at Saints (-8.5)
Colts at Panthers (+2.5)
Cowboys at Eagles (-3)
Bills at Bengals (-1.5) <– he had -1.5 in his analysis and -2 in the recap screen, we'll go with -1.5
Chargers at Jets (+3.5)
Blazing 5 Picks for Week 14:
Panthers vs Saints: Carolina Panthers (+5.5)
Jaguars vs Browns: Cleveland Browns (-3)
Lions vs Bears: Chicago Bears (+3)
Broncos vs Chargers: Denver Broncos (+2.5)
Bills vs Chiefs: Kansas City Chiefs (-1.5)
Colin's Blazing 5 Predictions for Week 14:
Game 1: Panthers at Saints

Spread: NO -5.5.
Colin's Pick: Carolina +5.5.
Prediction: Panthers win 26-24.
Rationale: Panthers' strong defense recently and Saints' weaknesses, including coaching and player performance issues.

Game 2: Jaguars at Browns

Spread: CLE -3.
Colin's Pick: Cleveland -3.
Prediction: Browns win 24-13.
Rationale: Browns' strong home performance and defensive capabilities, Jaguars' injuries and poor performance in cold weather.

Game 3: Lions at Bears

Spread: DET -3.
Colin's Pick: Chicago +3.
Prediction: Bears win 24-23.
Rationale: Bears' rush defense and recent performance, Lions' defensive struggles, and cold weather impact on Lions' quarterback Jared Goff.

Game 4: Broncos at Chargers

Spread: LAC -2.5.
Colin's Pick: Denver +2.5.
Prediction: Broncos win 27-24.
Rationale: Denver's defensive improvement, coaching advantage, and Chargers' overall weaknesses.

Game 5: Bills at Chiefs

Spread: KC -1.5.
Colin's Pick: Kansas City -1.5.
Prediction: Chiefs win 30-27.
Rationale: Patrick Mahomes' record after losses, Chiefs' strong defense this season, and Bills' inconsistencies in big games.
Saints vs. Bears – New Orleans -8.5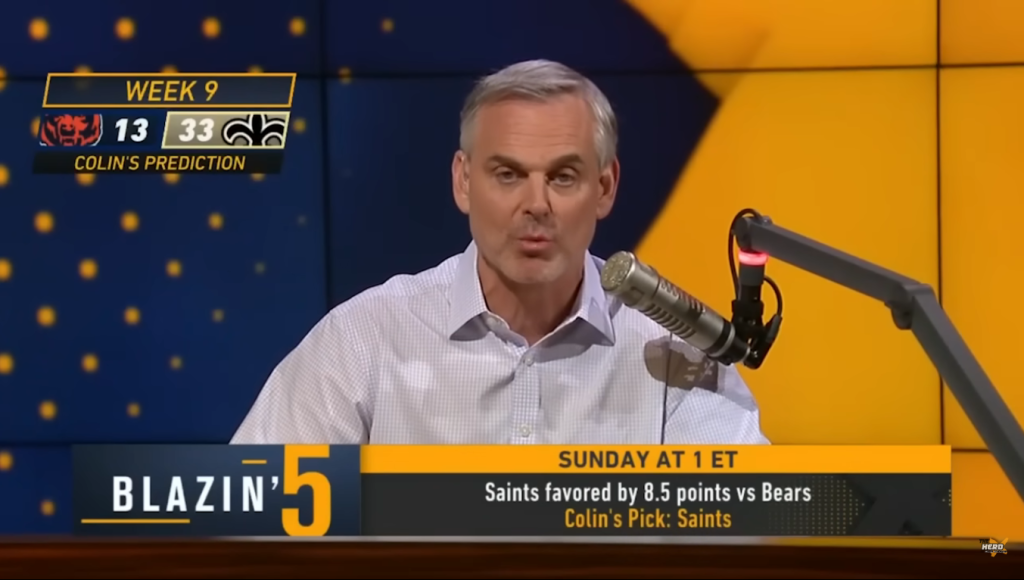 Colin Cowherd is backing the New Orleans Saints with a hefty 8.5 point spread against the Chicago Bears. He predicts that the Saints' robust defense will stifle the Bears' offense, which has been struggling to find consistent form. Coupled with Derek Carr' leadership and the Saints' explosive offense, Cowherd sees this as a lopsided affair in favor of New Orleans.
Colin's prediction: Saints 33, Bears 13.
Eagles vs. Cowboys – Philadelphia -3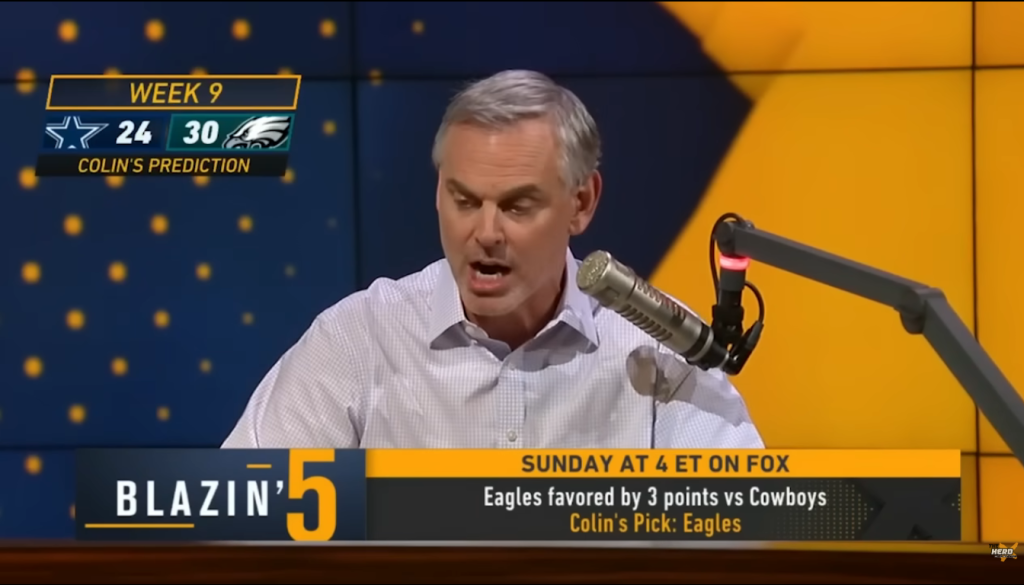 Cowherd's analysis leads him to favor the Philadelphia Eagles, laying down 3 points against the Dallas Cowboys. He points out that the Eagles are hitting their stride at the right time, and their home-field advantage should play a significant role. Cowherd also cites the Cowboys' recent inconsistencies as a factor in his decision, expecting Philadelphia's balanced attack to prevail.
Colin's prediction: Eagles 30, Cowboys 24.
Panthers vs. Colts- Carolina +2.5
Turning to the Carolina Panthers as underdogs with a 2.5 point advantage, Cowherd believes the Panthers are underrated. He's convinced that Carolina's dynamic offense will overcome the Indianapolis Colts' challenges on the road. Trusting in the Panthers' ability to capitalize on the Colts' weaknesses, Cowherd sees value in taking Carolina with the points.
Colin's prediction: Panthers 28, Colts 24.
Bengals vs. Bills- Cincinnati -1.5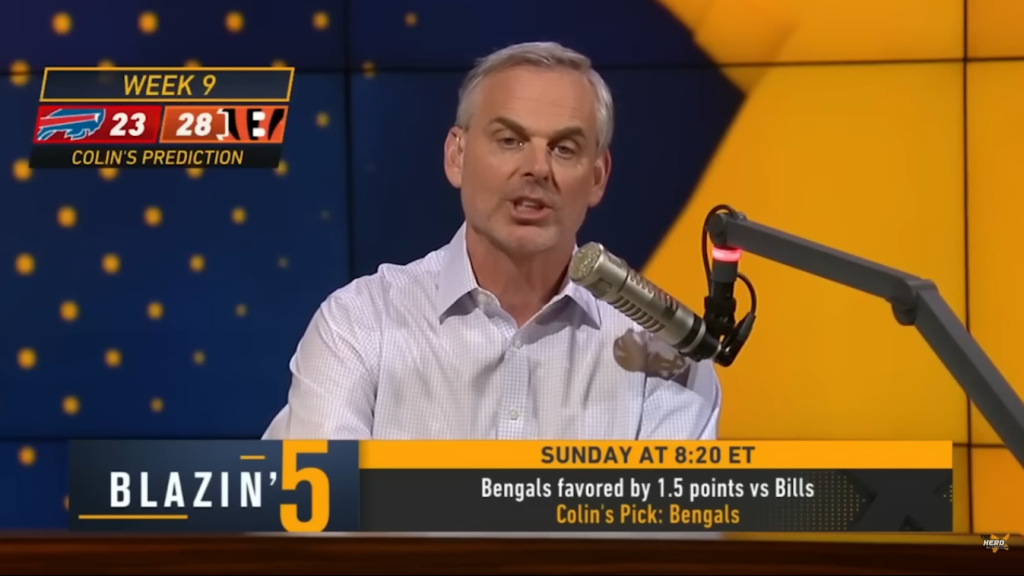 The Cincinnati Bengals, favored by just 1.5 points, are Cowherd's pick against the Buffalo Bills. He notes that the Bengals' high-powered offense should give them the edge in what he anticipates to be a high-scoring duel. Cowherd's confidence in Cincinnati's ability to cover the narrow spread is rooted in their overall team balance and home advantage.
Colin's prediction: Bengals 28, Bills 23.
Jets vs. Chargers – New York +3.5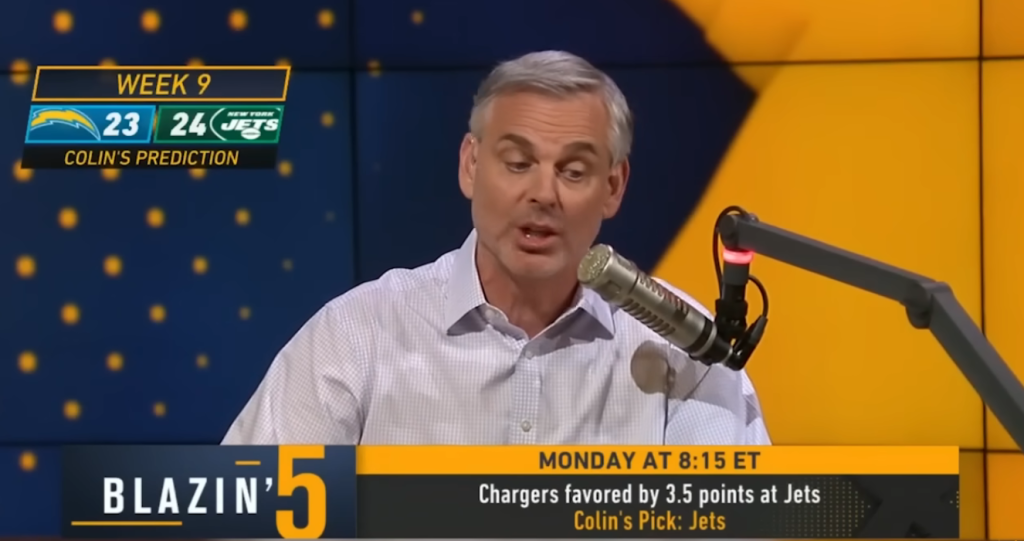 Cowherd selects the New York Jets with a 3.5 point cushion over the Los Angeles Chargers. He sees the Jets as an improving squad, poised to surprise a Chargers team that has shown vulnerability. He pointed out that the Chargers are giving up 6 yards per play on defense despite the huge contracts. Believing in the Jets' tenacity and the Chargers' potential to falter on the road, Cowherd is calling for an upset.
Colin's prediction: Jets 24, Chargers 23.