Colin Cowherd shared his Blazing 5 NFL picks for week 3. What horrendous start to his season so far, Colin is coming off back to back winless weeks, going 0-4-1 in week 2 to drop his 2023 record to 0-9-1.
Blazing 5 Picks for Week 14:
Panthers vs Saints: Carolina Panthers (+5.5)
Jaguars vs Browns: Cleveland Browns (-3)
Lions vs Bears: Chicago Bears (+3)
Broncos vs Chargers: Denver Broncos (+2.5)
Bills vs Chiefs: Kansas City Chiefs (-1.5)
Colin's Blazing 5 Predictions for Week 14:
Game 1: Panthers at Saints

Spread: NO -5.5.
Colin's Pick: Carolina +5.5.
Prediction: Panthers win 26-24.
Rationale: Panthers' strong defense recently and Saints' weaknesses, including coaching and player performance issues.

Game 2: Jaguars at Browns

Spread: CLE -3.
Colin's Pick: Cleveland -3.
Prediction: Browns win 24-13.
Rationale: Browns' strong home performance and defensive capabilities, Jaguars' injuries and poor performance in cold weather.

Game 3: Lions at Bears

Spread: DET -3.
Colin's Pick: Chicago +3.
Prediction: Bears win 24-23.
Rationale: Bears' rush defense and recent performance, Lions' defensive struggles, and cold weather impact on Lions' quarterback Jared Goff.

Game 4: Broncos at Chargers

Spread: LAC -2.5.
Colin's Pick: Denver +2.5.
Prediction: Broncos win 27-24.
Rationale: Denver's defensive improvement, coaching advantage, and Chargers' overall weaknesses.

Game 5: Bills at Chiefs

Spread: KC -1.5.
Colin's Pick: Kansas City -1.5.
Prediction: Chiefs win 30-27.
Rationale: Patrick Mahomes' record after losses, Chiefs' strong defense this season, and Bills' inconsistencies in big games.
Blazing 5 Picks for Week 3:
Chargers (-1.5) at Vikings
Packers at Saints (+1.5)
Bills at Commanders (+6.5)
Patriots (-2.5) at Jets
Rams (+3) at Bengals
Chargers (-1.5) at Vikings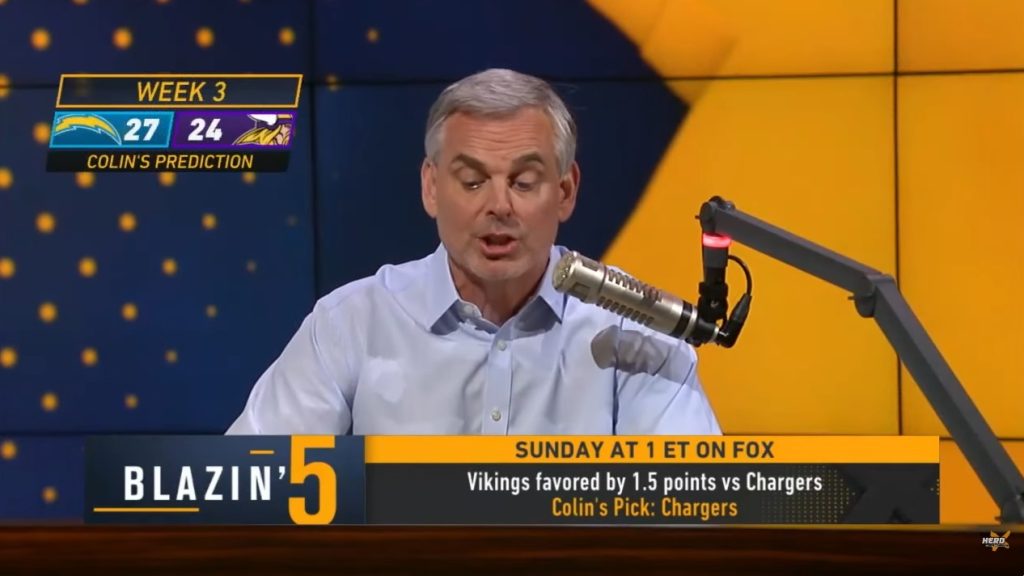 Cowherd picked the Chargers -1.5 over the Vikings because he believes the Chargers are the better team with the better quarterback, roster, and offense that doesn't turn the ball over, while the Vikings have been sloppy with the most giveaways in the league and a non-existent rushing offense. He predicts the Chargers will win 27-24.
Packers at Saints (+1.5)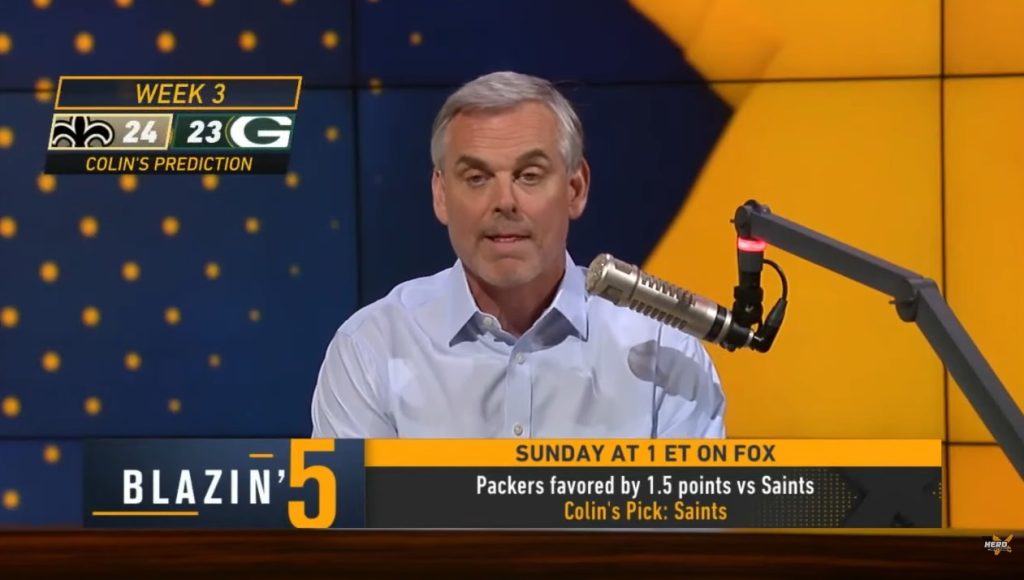 Cowherd picked the Saints +1.5 against the Packers because the Saints have three good receivers in Olave, Thomas, and Shaheed, and their defense has held opponents under 20 points for 8 straight games, while the Packers have the youngest roster, injuries on the offensive line, and have struggled to generate first downs and big plays. He predicts the Saints will win 24-23.
Bills at Commanders (+6.5)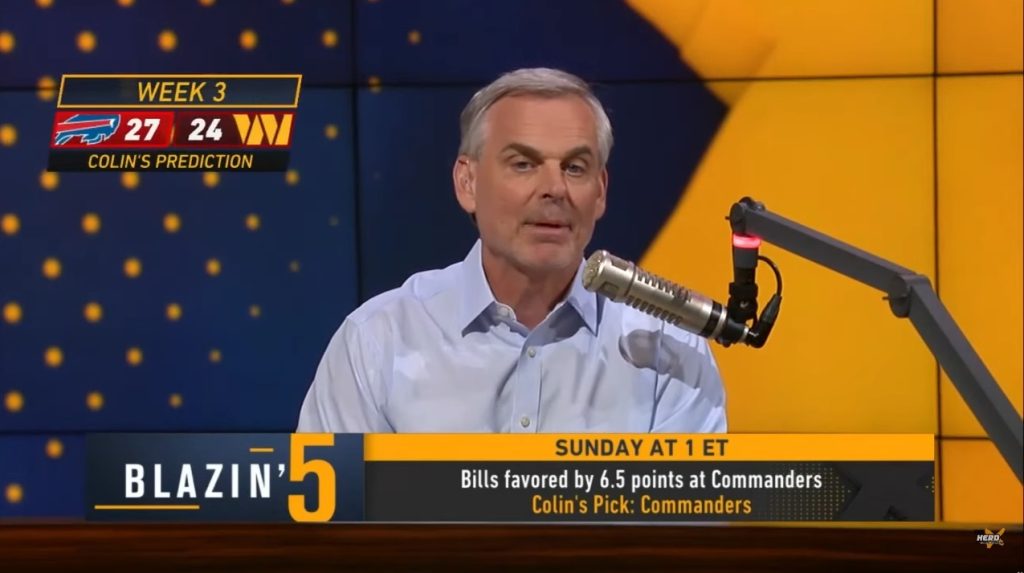 Cowherd picked the Commanders +6.5 against the Bills because of the bad weather forecast which favors the team getting points, the Commanders defense leads the NFL in sacks and pressures which could disrupt Josh Allen, and he believes it will be a sloppy, low-scoring game. He predicts the Bills win 27-24.
Patriots (-2.5) at Jets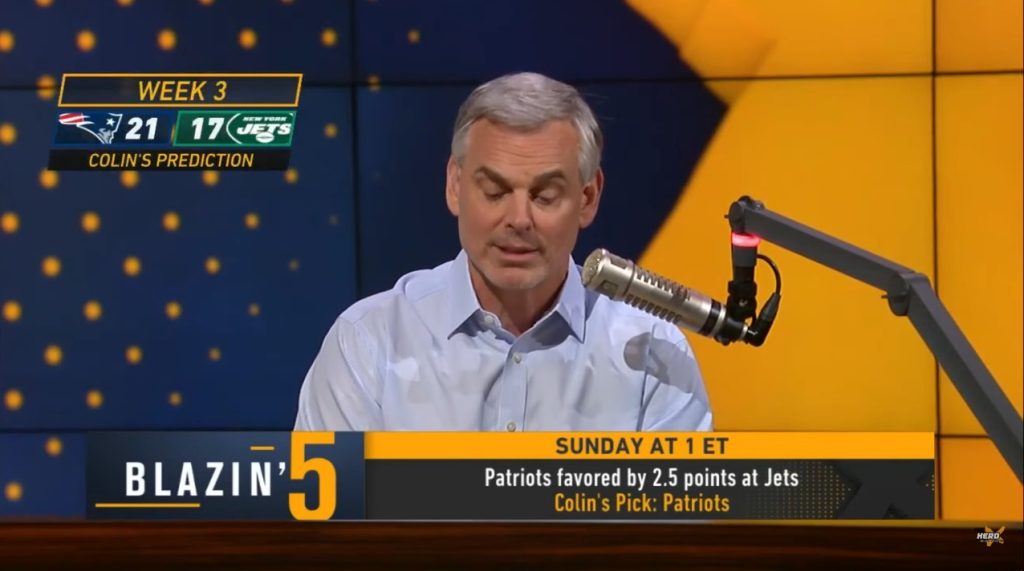 Cowherd picked the Patriots -2.5 over the Jets because of the coaching and quarterback advantage with Belichick and Jones, the Patriots outplayed the Jets in recent matchups, and Belichick historically dominates young mistake-prone QBs like Zach Wilson. He predicts the Patriots win 21-17.
Rams (+3) at Bengals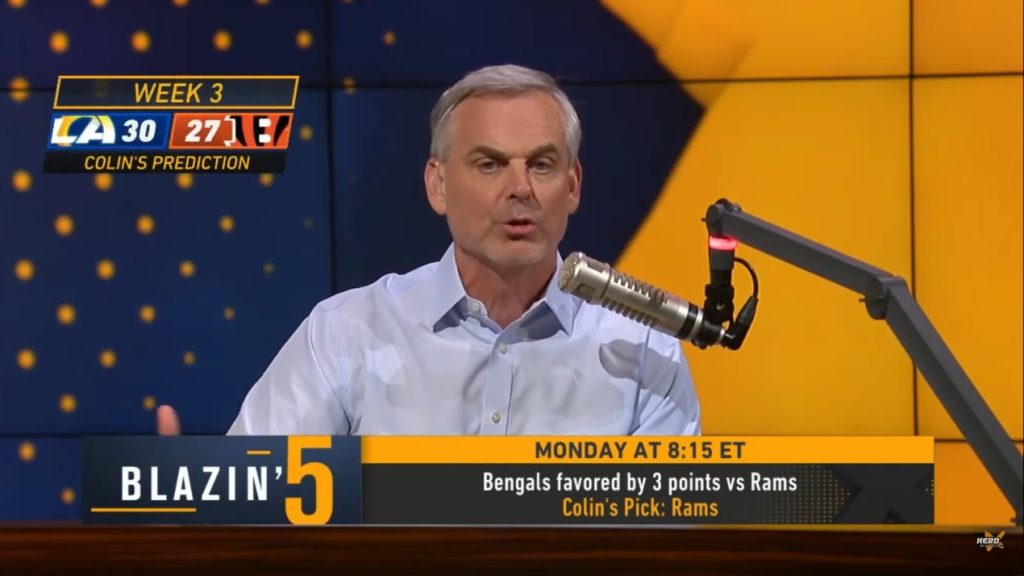 Cowherd picked the Rams +3 against the Bengals because Joe Burrow is injured and may not play, leaving the Bengals without a deep passing game, while the Rams offense has impressed with new players and leads the NFL in scrimmage TDs. He predicts the Rams win 30-27.